Mountains wallpapers
Watching the mountains on a sunny morning or a cold winter day gives you a sense of belonging and trust. Because looking at the mountains calms our souls, which supports our sense of security and relief. Listen to the wind coming from the mountain hills on your walls thanks to beautiful wallpapers with mountain motifs inspired by nature.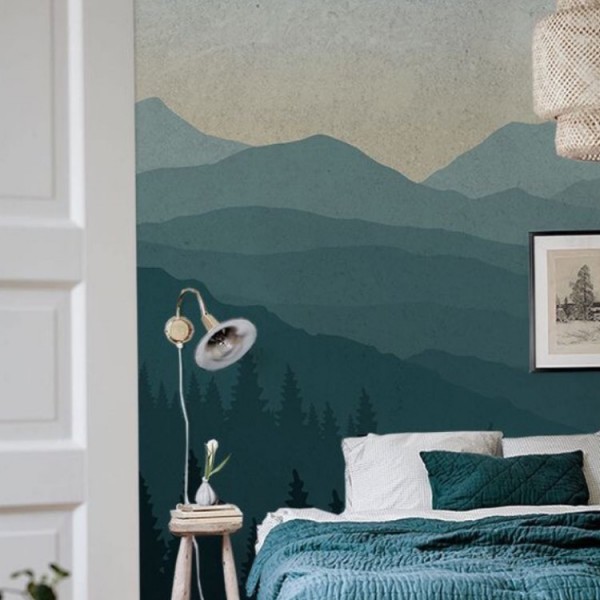 Classic
Retro
Country
Glamour
Vintage
Shabby Chic
Contemporary
Boho
Modern
Scandinavian
see all
Victorian
Industrial
Minimalist
Colonial
Abstract
Art deco
Eclectic
Baroque
Rustic
Provencal
Japanese
Wallpaper with a mountain theme
Make your room unique with our stunning mountain wallpapers. From Mount Everest to Mount Fuji, our mountain designs will create an amazing decorative wall that will awaken your desire to wander and make your friends green with envy. Our wonderful mountain wallpapers depict everything from flowing lakes and rivers at the base of the infamous mountains to snowy peaks basking in the winter sun and sunrises and sunsets appearing behind the ridges. Reflect your pioneering spirit in the interior by installing one of our mountain wallpapers at home and encouraging guests to achieve the same great look. Conquer your interior and speak, browse our collection of mountain wallpapers today.
Wall decorations dedicated to mountain lovers
Our collection of wallpapers and wallpapers with a mountain theme makes the rooms look larger and ensure freshness in your room or office. Whether you're a child or an adult, our mountain wallpaper collection has a wide range. Because the materials we use are compatible with nature, you can safely use them for yourself and in your child's room. Our wallpapers will add a touch of color and will blend in perfectly with any type of decor. You can use our wallpaper on our original and innovative self-adhesive wallpapers in the MagicStick system. If you are looking for an easy solution that will change the appearance of the walls and the decor of the room, then you are in the right place! Our wallpapers are extremely easy to install and can be easily removed if needed and moved to another place!