flowers wallpapers
Wallpaper with a floral motif is a classic wall decoration. In our offer we have a huge collection of floral murals - smaller, larger, ordered in regular patterns and blossoming in artistic chaos. There is a great amount of them, so we will briefly follow the most common ones.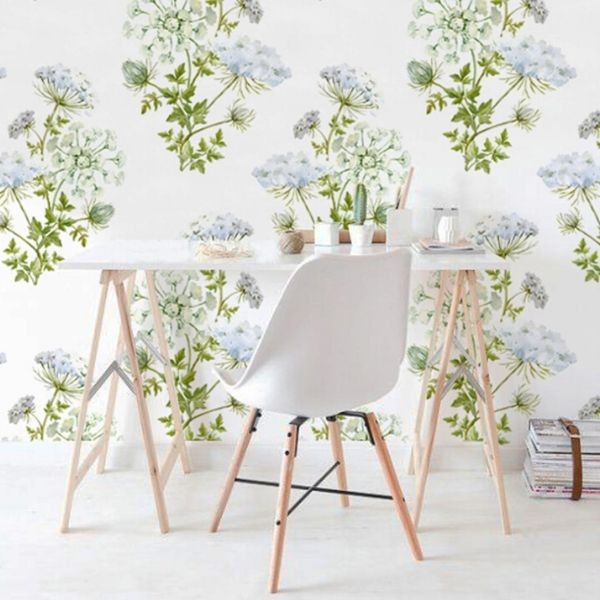 Modern
Boho
Contemporary
Japanese
Vintage
Ethnic
Colonial
Retro
Oriental
Country
Art deco
Minimalist
Classic
Baroque
French
Abstract
Glamour
Victorian
Eclectic
Rustic
Shabby Chic
Scandinavian
Provencal
English
Amazing wallpapers with a floral motif
Classic floral wallpapers are kept in warm shades of pink, green and blue. It is an ideal proposal for the living room, dining room or bedroom. It completes the interior in a classic style, the one inspired by the English countryside or romantic. Large, asymmetrical floral compositions on wall mural are an artistic element of the interior design. They are no longer just a background, like those drawing from classics. They come to the fore, adding dramatic space. Maintained in dark, slightly dark shades, they perfectly harmonize with furniture in similar colors. Remember that if the room is not illuminated enough, such wallpaper can optically reduce it. Flowery wallpapers also work well in children's rooms, especially those for the youngest children. Although it might seem that this is a motive rather for the kingdom of a little girl, you will find that we have a lot of proposals that will also appeal to the moms of boys. Instead of sweet pink, it is enough to reach for multicolored wallpaper, decorated with leaves in a slightly abstract style. For the youngest, patterns inspired by the forest and wild animals also work well. Flowers come to the background here, and friends from the forest come to the fore.
Floral wallpaper as a beautiful background for fashionable accessories
If you are looking for a wallpaper, which will subtly fit into the interior design without dominating it and being only emphasized background, pay attention to those in small flowers. They are delicate, fit into any type of room and optically enlarge the space. It is similar with white wallpapers with a pattern looking like a pencil sketch. Such a minimalistic approach to wall decoration works well if you just want to gently expose the wall without putting it too much to the foreground.