Cherry blossom wallpapers
Sakura is a Japanese term for both cherry blossom and decorative cherry trees. They have special significance in Japanese culture. Decorative cherries bloom only a week, before the tree leaves, and then crumble to create amazing landscapes. Every year, the Japanese follow the cherry blossom front moving across the country, which means waking up nature to life.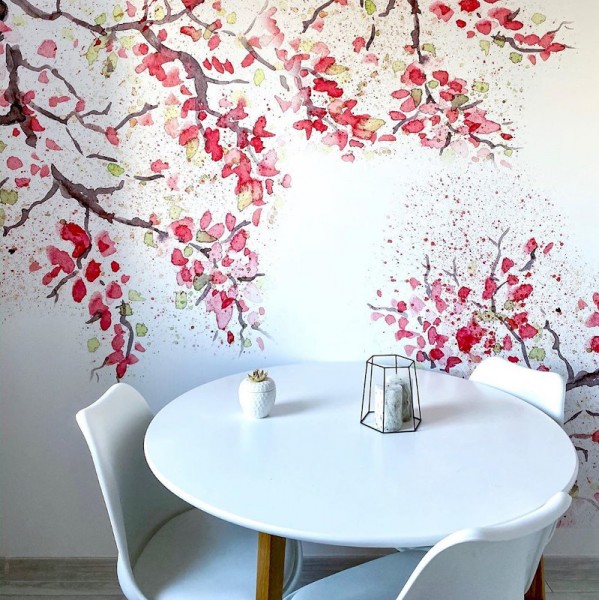 French
Vintage
English
Abstract
Contemporary
Country
Boho
Japanese
Shabby Chic
Oriental
Cherry blossoms
[results: 16]
Cherry blossom wallpapers
Wallpaper with a cherry blossom pattern
Decorative cherries, depending on the species, have delicate single flowers, hanging, spreading flowers with thick and fleshy petals, or even forming thick balls filled with petals like roses. They come in white, white and pink or in a wide range of shades of pink, from delicate powder to intense ruby. And we decided to transfer all this range of designs and colors to our unique wallpapers with the cherry blossom motif. Among them you can find delicate bright wallpapers with the motif of small branches filled with small, pastel-pink flowers, which will be perfect for feminine interiors. In contrast, colorful wallpapers with the theme of cherry branches with blooming buds will look great in children's rooms adding warmth and symbolizing the beginning of life.
Cherry blossom wallpapers - many patterns and colors
In contrast, in the boho style, dark wallpapers with a motif of bulky and intense in the color of decorative cherry flowers and wallpapers with the motif of whole cherry branches will work great. Sakura is the ubiquitous and widely recognized symbol of Japan. It is placed on all possible everyday objects: kimonos, tableware and furniture. Therefore, we also reached for this wonderful symbol by placing it on our wallpapers. It is a metaphor for the fleeting nature of life and inseparable from the culture of kamikaze and samurai. Their lives were considered as short-lived and beautiful, as were cherry blossoms.