Canvas and glass Prints for the bathroom
Bathroom is a place where our paintings printed on glass will fit perfectly. They will fit into a traditional aesthetic as well as a modern arrangement with minimalist accessories and fittings. Images for bathrooms made on glass have many advantages which you will discover very quickly.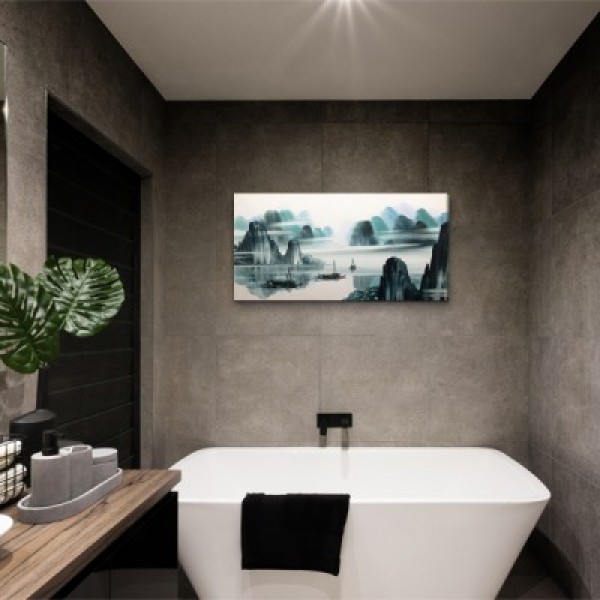 Canvas and glass Prints for the bathroom
Bathroom in modern style
Take a look at interesting picture patterns we have prepared for bathroom arrangements. In the first place, we focus on all motifs related to water because it is an association that comes to mind very naturally. Think about what inspires you the most. It can be spectacular images of waterfalls, calmly flowing rivers, the depths of a lake, or just a piece of water surrounded by natural landscape. If you are interested in art, reach for one of the reproductions in our collection. Depending on the style of your bathroom you can choose from impressionist sunsets over a lake or minimalistic Japanese graphics with Mount Fuji in the background.
What painting theme to choose for the bathroom?
The bathroom is also a place where nature and everything related to it always works. Opt for a winter landscape with snow-capped mountains and forests if you are a fan of cool colors. On the other hand, those who prefer warm colors can reach for paintings with flowery meadows, full of vivid colors and details. Here, above all, we can recommend reproductions of impressionists, who mastered to perfection the use of color and light on paintings.
How to take care of paintings in the bathroom?
Images for the bathroom on glass have the undoubted advantage that they are not susceptible to moisture. Therefore, you do not have to give up the use of interesting bathroom decorations. You just need to choose the material and, of course, high quality workmanship. The print on glass, even despite unfavourable conditions, remains in original quality, colors do not fade, and the surface does not lose its values even after repeated cleaning. This, in turn, is very simple and trouble-free. All you need is a damp cloth and a bit of glass cleaner. You do not have to care about such a painting more than about other elements of the bathroom decor and equipment. So you can safely bet on a spectacular view in maximum size and decorate the wall above the bathtub with it. If you have a small bathroom, pay attention to graphics that give the impression of a 3D effect. Thanks to them, the space will optically enlarge, increasing the comfort of using the bathroom. An interesting option is also composing a few pictures into a coherent whole and hanging them in several places in the bathroom. This will allow you to build a special atmosphere, especially in a large bathroom, or a bathing lounge.