Canvas and Glass Prints for children
Decorations for a children's room can look just special. They do not have to have only fairy tale motifs, many colors and typical patterns for such a place. We have many suggestions that will help you decorate your toddler's space in a unique way. These are canvas, as well as glass paintings. A child's room can also look stylish.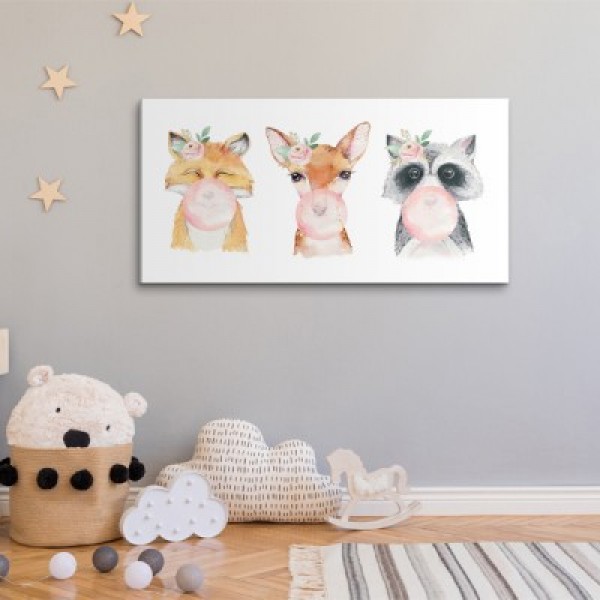 Canvas and Glass Prints for children
Paintings for child's room
From the earliest days of a child's life, it is worth remembering that his taste and sense of aesthetics is being formed all the time. The environment, in which he lives, has a huge impact on this. Apart from educational toys and charming pictures with fairy tale characters, it is worth choosing a good design and timeless art. Paintings for the baby's room you can successfully choose from the gallery of reproductions of great masters. Who says that the night sky or other reproductions of Van Gogh cannot hang in the room of the youngest inhabitants? Contrasting colors, interesting textures and patterns will make the toddler interested in what was captured on canvas. This is just one of a huge number of examples that are worth paying attention to. If you opt for a room in natural colors and do not want to reach for too many decorative elements, a great idea are sketches or paintings with a botanical motif. They will subtly emphasize the character of the interior filled with neutral colors and natural materials. You can choose whether they will be printed on canvas or glass.

Both materials have their advantages. They have minimally finished edges and in both cases they are safe even in a situation when a toddler reaches his hand to the wall decoration.
Support your child's development
The closest environment has a huge impact on a young person. It influences his creativity and curiosity about the world. The pictures you place on the wall will inspire your toddler to ask questions and explore the world on his own. Therefore, it is worth reaching not only for pretty pictures, but also for those which can have educational or developmental value for a toddler. Exotic animals in paintings, scenes from everyday life in Japan, or lush vegetation hiding little inhabitants will make the child start learning about the richness of the world and its diversity.