Deer wallpapers
The deer, which in many traditions is associated with goodness, softness and gentleness, is in one way or another an animal associated with gods and holiness. One of the reasons for this may be his physical characteristics - gaze, agility, speed and antlers - which inspire these values and symbols in the imagination of man and his metaphorical nature.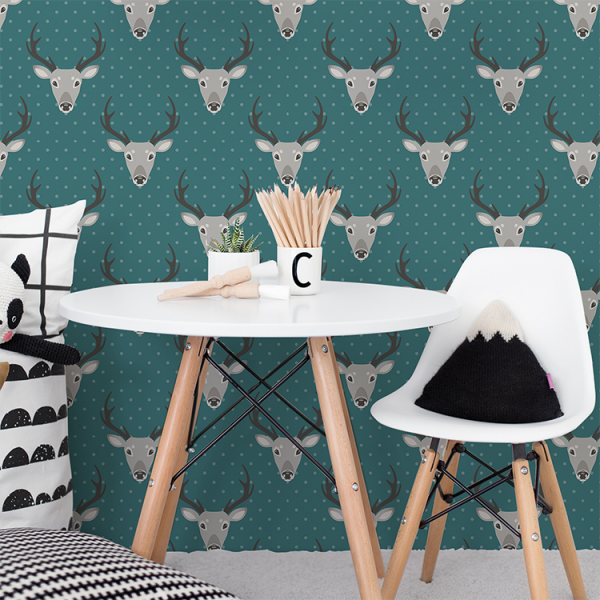 Country
Retro
English
Shabby Chic
Classic
Abstract
Scandinavian
Modern
Art deco
Contemporary
see all
Vintage
Boho
Provencal
Bring harmony and happiness to your room with a deer-themed wallpaper
In the Christian imagination, a deer is a symbol of godliness, devotion and concern for God for his children: people. There were two aspects of deer in the Celtic tradition: the feminine element, called Eilid in Gaelic, and Damh, the masculine element. For the native tribes of North America, the deer was a messenger, an animal of power, and a totem representing sensitivity, intuition and gentleness. In Buddhism, deer symbolizes harmony, happiness, peace and longevity. There are also Tibetan legends in which deer help men solve problems. That is why we decided to create a series of wallpapers with deer motifs. By inviting them to your home, you will bring happiness and prosperity with them.
In which room will a deer mural work?
We also made sure that everyone could find something perfect for themselves among our wallpapers. That is why we offer deer wallpapers in pastel, soft colors with forest elements - ideal for a children's room or a woman's space. More realistic representations of deer will work well in rooms in a rural or Scandinavian style. Adding warmth to the interior and introducing a climate that will be associated with an autumn walk in the woods. In contrast, the minimalist representation of deer - their contours in contrasting black on a white background is great for modern apartments and men's spaces. On the other hand, for people who approach life with a distance, we suggest playful comics in the style of deer