children wallpapers
An enchanted fairy-tale forest, distant lands worth visiting, a map of the sky, or maybe your favorite animals? Our offer of wallpapers designed with children in mind, meets the needs of even the most demanding children. Depending on the age, gender, interests and character of your child - you will choose the wallpaper that will make his room comfortable and cosy.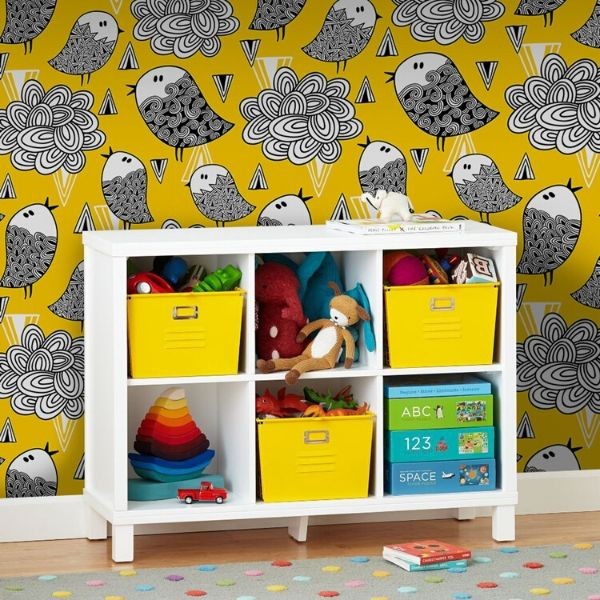 Eclectic
Oriental
Boho
French
English
Modern
Ethnic
Art deco
Abstract
Contemporary
Minimalist
Retro
Classic
Scandinavian
Shabby Chic
Colonial
Vintage
Provencal
Country
Beautiful wallpapers for kids room
Interesting world of science lovers will surely be interested in our star wallpapers with patterns of constellations. Future astronauts can already fall asleep with their heads among distant planets! For slightly younger children, we recommend animal motifs, reminiscent of characters from our favorite bedtime stories. Patterns with the inhabitants of fairy-tale forests - foxes, owls or rabbits - will awaken the imagination of the little one and make him feel like a hero of his beloved stories. Wallpapers in our repertoire include both sweet toy or fairy teddy bear motifs, as well as graphic images of animals, suitable for slightly older children. It is a perfect solution for small adventurers and fauna lovers. Every parent knows that at some stage their children's interests change like a kaleidoscope. The fascination with a particular animal, which lasts for months, can quickly give way to dinosaurs, stars or minerals. If this also applies to your child and you don't keep up with buying new decorations, you will certainly be interested in calmer decorative or plant motifs. Delicate patterns will bring a cheerful character to your child's room, and at the same time will match the furniture and accessories in different styles. It is also a fantastic solution in a sibling's room, if we do not want one child's preferences to overwhelm the other. In this case, the individuality of each child can be emphasized with appropriate accessories - posters, toys or blankets. Bright, pastel colors and subtle patterns will match the various elements of the decor.