Orange wallpapers
Unique and fun wallpapers with an orange theme will help liven up the interior, while subtle uniform backgrounds really let them jump out and create the WOW! Effect. The combination of warm orange color and dark furniture is definitely a good choice for the interior, if you want to create a warm and friendly environment, and oranges will certainly encourage a joyful atmosphere, wherever they are.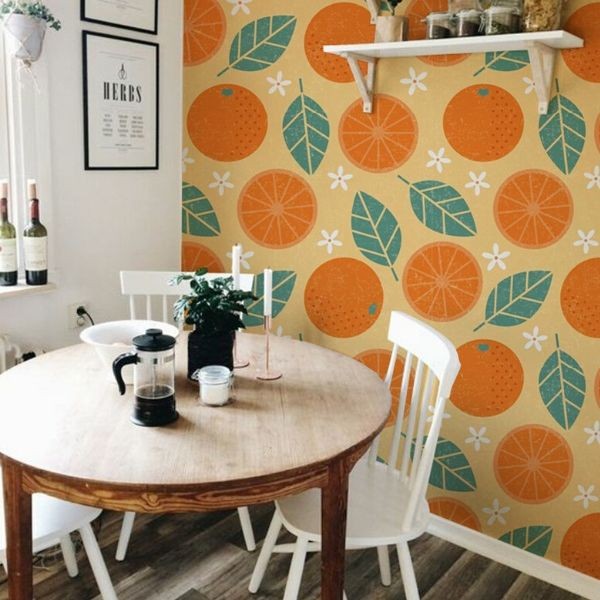 Modern
Industrial
Scandinavian
Abstract
Retro
Shabby Chic
Vintage
Boho
Contemporary
Stimulate the senses - decorate the interior with wallpaper with oranges
Orange combines the energy of red and happiness of yellow. It is associated with joy, sun and tropics. Orange represents enthusiasm, fascination, happiness, creativity, determination, train, success, encouragement and stimulation. For the human eye, orange is very hot, so it gives the impression of warmth. Nevertheless, orange is not as aggressive as red. Orange increases the oxygen supply to the brain, stimulates and stimulates mental activity. This is very accepted among young people, which is why orange-themed wallpapers are ideal for teen rooms. Orange citrus color is associated with healthy food and stimulates the appetite, which is why it works great in the kitchen or dining room.
Squeeze as much energy out of your interior as possible
Orange has very good visibility, so you can use it to pay attention and highlight the most important elements of your apartment. Our wallpapers will add a touch of color and will blend in perfectly with any type of decor. You can use our wallpaper on our original and innovative self-adhesive wallpapers in the MagicStick system. If you are looking for an easy solution that will change the appearance of the walls and the decor of the room, then you are in the right place! Our wallpapers are extremely easy to install and can be easily removed if needed and moved to another place!