Bathroom wallpapers
The bathroom is the most demanding interior in the whole house. The one who has renovated the bathroom at least once knows how much you have to work to achieve a spectacular effect. If you are lucky and can boast of a beautiful, large bathroom, the decorating world is open to you. You can have a large bathtub in the middle of the room, a modern shower with tiles or a huge wash basin in which your cat would fit.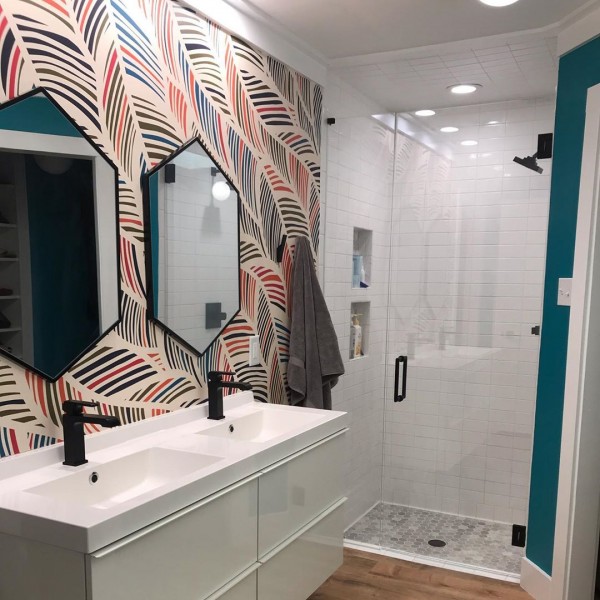 Vintage
Ethnic
Colonial
Retro
Oriental
Country
Art deco
Minimalist
Classic
Baroque
see all
French
Abstract
Victorian
Glamour
Rustic
Eclectic
Shabby Chic
Provencal
Scandinavian
Modern
English
Boho
Japanese
Contemporary
Industrial
Those who are less fortunate often ask themselves - how to arrange a small bathroom?
Small bathrooms have their pros and cons. The biggest drawback is the fact that in a small space should fit: a sink, shower or bathtub and washing machine, as well as a toilet. Arranging micro bathrooms is a challenge for any interior designer. Not all modern solutions, such as a huge bathtub in the middle of the room, will work in a small space. The main advantage of a small bathroom is its functionality - properly arranged will allow the maximum use of space in a convenient way for the household.
What decorations will optically enlarge a small bathroom?
Wall decorations that will allow you to optically enlarge a small area include wardrobes with a built-in mirror above the sink. This solution will create an impression of depth. Another type of decoration will be contrasts - tiles in black and white will bring out the depth, making the bathroom appear larger than it really is. The micro bathrooms will also work with bright additions, such as macrams, sea shells and succulents. Too dark colors will overwhelm the interior and make it dark and small. When arranging a small bathroom, use bright colors and wood or bamboo that will give the interior character.
What wall decorations will work in small interiors?
The most commonly chosen wall decorations include removable wall murals that break the monotonous colors of the interior, adding spiciness to them. How can self-adhesive wallpapers be used as bathroom decorations? This is not surprising, the material from which we make our wallpapers is durable and resistant to moisture. It can be successfully glued to the wall, provided that there is no direct contact with water. Removable wallpaper is a bold decoration that will be properly cared for and will serve you for a long time. Infinitely many motifs make this decoration work well in both the Scandinavian and traditional bathrooms. Reusable wallpaper does not require a lot of time, just prepare the wall properly before applying the wallpaper and make sure that the base paint does not contain latex or acrylic. This is a good solution for those who do not like laying tiles. Removable wallpapers will allow you to quickly and effectively refresh the interior and delight with it again. What's more - the wall mural will also make your bathroom gain depth and appear optically larger. It is worth using various technological solutions to bring out the dormant potential in a small bathroom and create a beautiful interior.