Watercolor stair decals
Your stairs need renovation? They lack the expressive accent? You've come to the right place! Among the many ways to decorate your interior, stair decals are one of the easiest and fastest methods to give them a new, fresh look. If your stairs seem to be dreary and average, thanks to our stickers you can quickly and easily renew them and give the whole room a modern, original look.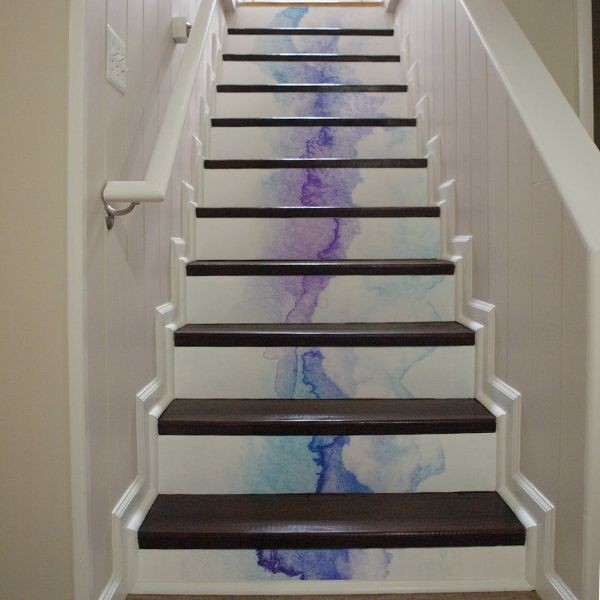 Our stair decals are a great solution that allows you to modify the entire interior with minimal effort and a modest budget. For seekers of interesting solutions and designs we offer stair decals. If you love watercolor paintings as much as we do, this category is created for you. This collection of stair stickers will be easily add a touch of color and a cozy atmosphere to your interior. Watercolor stair decals are a great solution for interiors designed in different styles. This decorative element is a quick and simple solution that we will make on our own. So forget about repair crews, clutter and high costs. Thanks to our stickers, in a dozen or so minutes, your stairs can turn into an amazing waterfall, wonderful meadow, or tropical jungle.
Everyone will find something for themselves in our offer. Take a look at the patterns in our watercolor stair decals category and surprise the household and guests with the new version of your entrance to the landing, bedroom, attic or playroom. Or maybe your company building is missing some interesting decorative element? Such stickers will look great placed on the stairs leading to the office rooms. Our watercolor stair decals thanks to its unique design allow for simple application and repeated sticking and peeling. Even the busiest person will be able to find time to make such a metamorphosis. Using such stickers will give a fantastic result. Stairs will become an unusual and eye-catching element.