Portugal tile decals
Do you want to refresh your damaged, aging kitchen and bathroom tiles? Or enliven them to give them a new, expressive look? Bet on originality and modernity! Tile stickers, such as our Portugal tile decals, have become fashionable devices for a cheap and quick interior renovation. They make them used so that the house takes on a fresh, new design without long and expensive renovations. Thanks to the great and interesting design, you can give your house a unique character.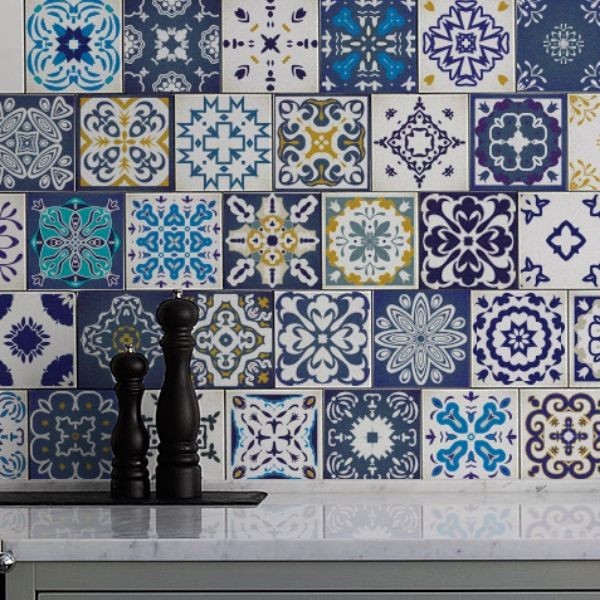 In our collection of stickers, among unlimited designs and colors, you'll find the perfect Portugal tile decals. Everyone who likes Portuguese style will love these unique designs. These beautiful, stylish and full of details patterns with advantages will enliven any kitchen and bathroom. Thanks to our tile decals, you can easily smuggle into your interior portuguese, popular azulejos theme, which is inseparably associated with this country. If you dream of a Portuguese-style character, then you cannot miss such eye-catching decorations. Complicated geometric and floral motifs of Portugal tile decals can become luxurious and intriguing decorative elements in your home. The tile stickers chosen in this way must be captivating.
Thanks to them, you will create an atmosphere of a light, seaside climate in your home. So interesting and complex designs gives the rooms of the atmosphere of cleanliness and order. Regardless of whether you use decals in the kitchen or bathroom, thanks to our Portugal tile stickers, you are sure that you use high quality products, made with great care and accuracy. You can apply them quickly and easily, thereby performing almost instantaneous transformation of any gloomy wall tiles. Additionally, enjoying the fact that you did it for a fraction of the cost of full renovation. Because using tile stickers is so profitable, you can update your tiles as often as you like!