Canvas and glass Prints for the bedroom
Is the bedroom arrangement important since it is the place where we only sleep? Of course it is. It is the most private space in the house. This is where you relax, unwind during the day, take a nap, or just read a book. We have many interesting ideas in our collection. What to put on the bedroom wall?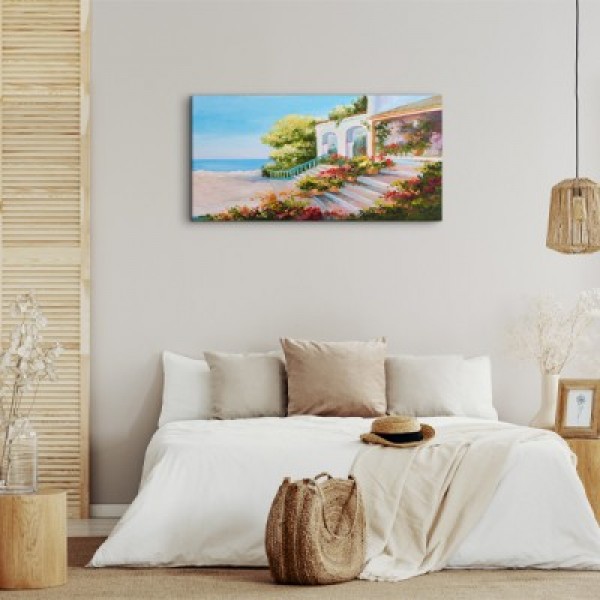 Canvas and glass Prints for the bedroom
A painting on canvas or on glass?
When choosing a wall decoration, consider what your bedroom looks like. You plan to decorate the wall behind the bed or maybe the one on the opposite side. Also, pay attention to how much space you have. It may decrease if, for example, you want to hang a screen or TV in front of the bed. When we consider glass reproductions and images printed on canvas, large sizes come into play. Thus, your artwork for the bedroom can be the main element of the interior design. It will determine to a great extent the atmosphere, how it prevails in the place of your rest. It is usually assumed that there should be mainly light colors or dark shades, always in a subdued palette, without flashy colors or too contrasting patterns. However, there are exceptions to the rule. You may find that you get a great night's sleep in a room dominated by red or pop art style decorations. Follow your hunch - modern paintings can also be hung in your bedroom - Andy Warhol and Banksy at the forefront.
Modern paintings for bedroom
You already have an idea about your bedroom, but you feel that the decoration would cost too much? With us you will find affordable paintings, which at the same time are a beautiful decoration of the interior of this character. Good design does not have to cost a lot. Modern paintings for bedrooms printed on glass or canvas have a price accessible to everyone.
At the same time we are happy that it gives our customers, that is also you, an opportunity to have in the interior of your own home, reproductions of masterpieces of the greatest masters of painting and drawing.
Maybe you are looking for something for your child's room? The wall in the bedroom of younger children can also include images printed on canvas or glass. It's best to go for soft colors that will allow your child to calm down when it's story time and sleep time. A bedroom decoration can hang over the toddler's bed, but it is worth remembering not to put it within the reach of the toddler.
A simple way to diversify
An interesting idea for bedroom arrangement may be to place a variety of pictures in different areas of the room. If there is also a play spot, separate it at least in a visual way. Paintings for the bedroom can then be more gentle and subdued, while those in the other part of the room, dynamic, encouraging exploration of the play space with educational values. You have several options to choose from. Reach for one large painting or several smaller ones that match the theme and together create a mini gallery in your child's room. If you want your choice to please your eyes for years, reach for timeless reproductions, whose charm does not fade with the passing of time.