Pop art canvas prints
Pop art paintings are characterized by saturated colors, contrasts, and expressive motifs. The compositions are simple and very clear. This style was born in the middle of the 20th century, and one of its most famous creators was Andy Warhol. Almost everyone associates his famous works with the portrait of Marilyn Monroe in different colors, or with cans of tomato soup.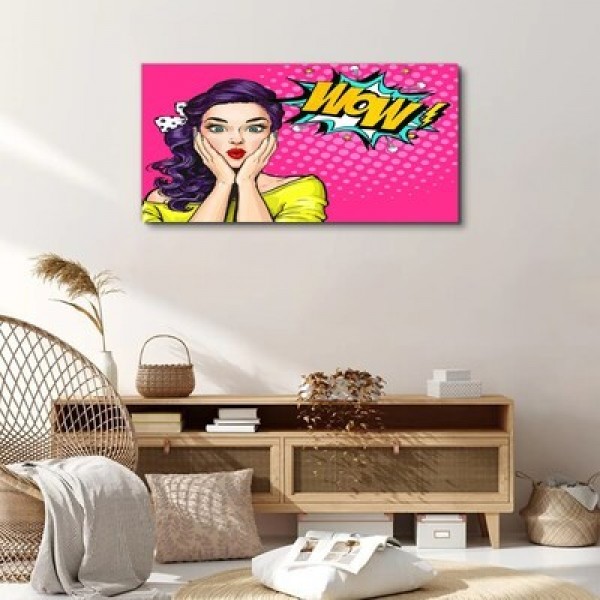 Pop art painting at home
Without a doubt, pop art graphics are a suggestion for people who like very expressive decorations in the house. The colors here are very juicy, often the elements in the painting are duplicated and shown in different colors. Pop culture symbols and icons are often used, making this art appealing to many audiences. Graphics with motifs inspired by comic books supplemented with balloons filled with texts are also often pop art. Andy Warhol, who was one of its main representatives, reached for well-known motifs mainly in order to show a critical attitude to them, and above all, to make us aware of how dangerous consumerism can be.
Youthful graphics
Young people, who decorate their room or decorate their first apartment, often choose pop art. Paintings are well suited to residents with strong opinions, preferring dynamic color combinations, and expressive accessories. We have many proposals that are reproductions of famous artists, but also contemporary graphics in the style of pop art. If you have a large empty wall and want to bet on an element that will largely dominate the interior, this type of painting will perfectly fulfill this role. Printed on canvas in large format will certainly fit perfectly into the decor of a modern apartment, or arranged in an eclectic style with a variety of accessories.
Such a material as canvas fits well here. In the youth room there are often placed paintings in the style of pop art looking like individual windows from comic books, prepared in macro scale. This is certainly a remarkable option for people who are fans of comic books - both in the book edition and in film adaptations which in recent years have become particularly popular.
Pop art not only at home
Expressive graphics and motifs used in pop art work well not only at home. We often see them in cafes, clubs, and various types of service establishments. Nowadays, customers pay attention not only to the level and quality of service, but also to the appearance of the place they visit. It does not matter whether it is a pub or a hairdresser's, we willingly come back to these spaces, which aesthetically suit us. Pop art decorations can also tell a story. Especially motifs taken from comic books work on imagination and catch the eye, inspiring the recipient to complete the story themselves. So if you are looking for a canvas painting to liven up your place and add some character to it, we are sure that a pop art reproduction can help you. Choose one of the graphics prepared by famous artists or reach for a less known work but equally interesting in reception. Surprise your clients, and make your place more distinctive.
Also, check the pop art images on glass.