Canvas and Glass Prints for the kitchen
There are many ways to decorate your kitchen. Much depends on the style in which it is decorated. We bet on glass paintings for kitchens, which not only wonderfully decorate them, but also protect the wall from dirt. Be inspired by the collection of works prepared by us which will be perfect for your kitchen.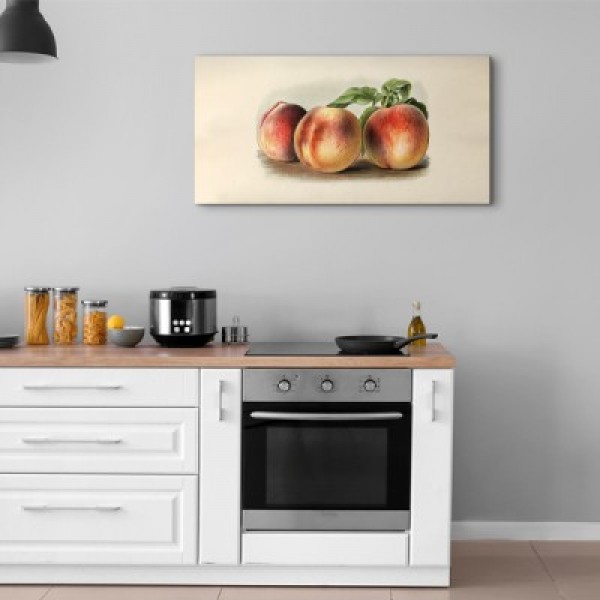 Canvas and Glass Prints for the kitchen
Kitchen paintings - on glass or canvas
In the kitchen you can successfully use both glass paintings and those printed on canvas. The first proposal, however, is more applicable in all those places where walls can be easily stained or splashed with water. Glass pictures can be easily wiped with a damp cloth, possibly with a glass cleaner. Done! After a while your decoration, and at the same time wall protection, looks perfect. It is impossible to not mention colors. They are very intense and perfectly reflect all details that are present on the original painting or graphic. Amazing visual qualities are definitely an added value here. If you like consistently matched elements of interior design, you may also be interested in our glass cutting boards. We also have them printed with reproductions of famous paintings. Therefore, you can choose a duet, in which there will be a painting of the kitchen on glass and the cutting board made of the same material. The final effect will be stunning!
What painting theme to choose for your kitchen?
Wondering what theme will work best in your kitchen? We assure you that not only paintings with culinary themes will look good here. Of course, when it comes to paintings for the kitchen, herbs, fruits or still life are a natural choice. However, you have a possibility to reach for reproductions of famous masters works or something more contemporary.
Paintings for a modern kitchen
Abstract motifs, minimalist patterns, or even pop art can fit just perfectly into your interior. Modern kitchen interiors do not have to refer to food or culinary art. Above all, let them fit you and your lifestyle. Since the kitchen is often considered the heart of the home, decorate it with heart as well. Any motifs of nature paintings will look great in a classic or English style kitchen. Still life is also a proven decoration for such a place. If, on the other hand, you decorate your kitchen in a more modern style, pop art or street art on canvas or glass can fit much better. Contrasting color combinations and vivid hues are something that will always keep you energized in the kitchen. If that's a place where the party or social gathering moves to, the decorations on the wall will perfectly fit in with the prevailing atmosphere.