Canvas prints religious
Religious paintings have also found their way in homes and apartments where they often lose their religious context, but are appreciated for their craftsmanship or interesting painting technique. In the living room or study, you can hang paintings of saints, scenes from the Bible, rituals associated with the culture of the Far East, and even objects used in various religions.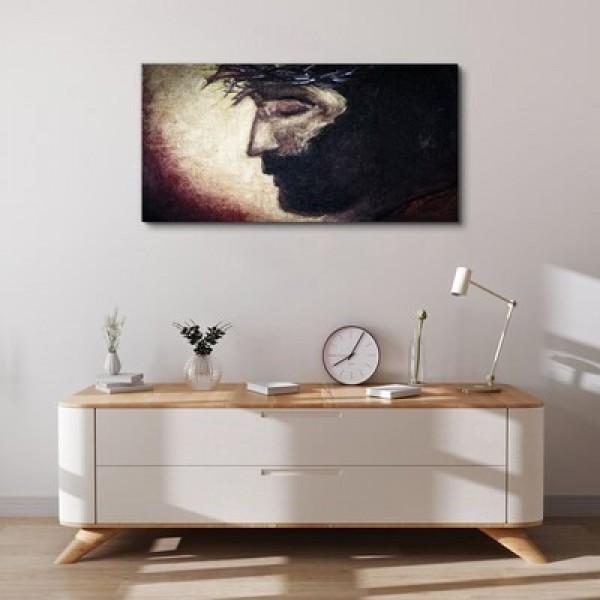 Religious paintings in the home space
Religious painting is a proposal not only for those who practice or actively participate in the life of the church. Motifs associated with different types of beliefs are willingly used by painters and illustrators in various types of works. In our collection you will find both spectacular scenes with lots of people as well as intimate sketches with one figure. We offer different styles and colors that characterize paintings on religious themes. Baroque, full of splendor and details, paintings and delicate classical sketches with ancient scenes are perceived in a completely different way. Thanks to such diversity, you will find in our gallery pictures of saints to print, which will not only have a deeper meaning, but at the same time will be a beautiful decoration of a living room or any other room in your house.
How to arrange paintings with religious themes?
Are you interested in this type of interior decoration, but at the same time do not want your house to look like a store with devotional items? Choose one reproduction of a painting or a drawing and place in its immediate surroundings where there are some decorations not related to any religion. This way you do not risk a kitsch effect by reaching for sacred paintings. Besides, modern works are sometimes a bit controversial. If you do not want your walls to be always a subject of discussion, do not reach for decorations that could be very debatable.
It will allow you to avoid uncomfortable questions from your guests. We give you the opportunity to print any image on canvas - which in a modern form refers to the traditional pictures painted on canvas.
Religious pictures in the child's room
If you want to use religious motifs while decorating a children's room, you will find many interesting proposals. Especially if you want to avoid the common motifs of saints and pictures straight from a devotional store. You may be interested in Baroque painting, in which scenes from the Bible play an important role. A minimalist graphic with a little angel will look beautiful in the room of the youngest. Delicate colors will certainly appeal to a young viewer. In a children's room, a picture printed on canvas works better. Many customers also decide to choose several graphics and place them on the wall in the form of a gallery. We recommend this way of coherent decoration of the space which is supposed to support the development of a child and at the same time be visually coherent and aesthetic.
Also, check the religious glass prints.