Japanese canvas prints
Japanese style paintings and graphics are very characteristic and find followers mainly among minimalism lovers. There are many plant motifs here with cherry blossom branches at the forefront, of course. However, they work well not only in interiors decorated in Japanese style. Check and see what proposals we have chosen for you.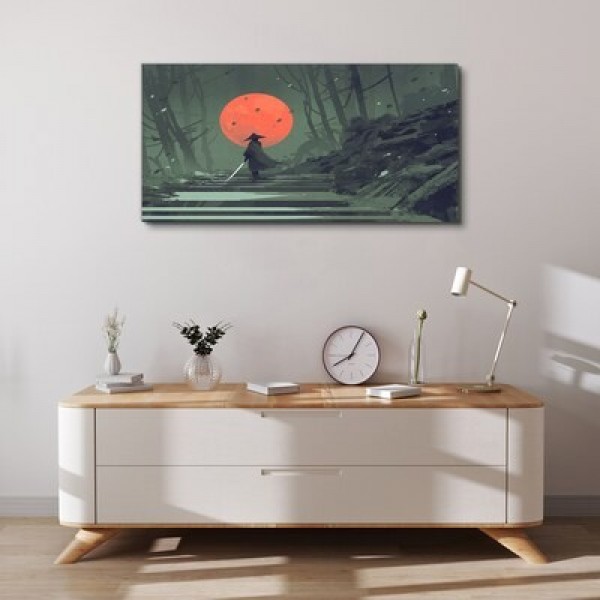 Japanese motifs in the interior
Famous Japanese paintings show both natural landscapes and human figures. We have a chance to see traditional female and male costumes, scenes from everyday life, and celebrated holidays and customs. Nature also plays an important role here. However, it is not full of splendor and colors. Usually one or two colors dominate, and there is a clearly defined theme of the work. The colors that characterize the Japanese style are red, shades of white and blue. There are usually clearly defined outlines filled in with colors. Japanese graphics are very easy to recognize mainly because of the eastern motifs and elements typical for this culture. It is not uncommon to see inscriptions, which Japanese art is also famous for being perfectly executed. The paintings go much further than a mere attempt to reflect reality.
Japanese style at home
Many people like to reach for interior design elements inspired by the Far East. A Japanese painting can be a part of a larger arrangement of this style. At the same time, Japanese art is so minimalist that it will also easily fit into a style not associated with Asia. Regardless of the situation, you can properly choose not only the graphics that will be on the painting, but also the material on which it will be made by us. They are not additionally framed, which makes them look more modern than traditional paintings or graphics with a frame. Japanese style paintings are worth taking into consideration when arranging not only a living room, but also other rooms in the house. They are certainly an excellent proposal in a situation when you arrange a bedroom in Japanese style - with futon, mat, and simple furniture.
Also, check Japanese prints on glass.