Irregular mirrors
Step into a world of captivating design and innovation with our stunning collection of asymmetrical and teardrop-shaped mirrors. These mirrors, with their intriguing shapes and frameless elegance, redefine the boundaries of traditional design, adding a touch of the extraordinary to any room. Picture the warm, cool, or neutral light of our LED illuminated mirrors casting a gentle glow that accentuates the charm of your surroundings. Imagine how these mirrors, masterfully crafted for the discerning customer, can transform your space from ordinary to exceptional. Embark on a journey of discovery, and see how our collection can add more than just light to your space. It's not just about reflection; it's about creating an ambiance, a mood, a unique character that resonates with your own. Explore the potential and embrace the revolution in mirror design that awaits you.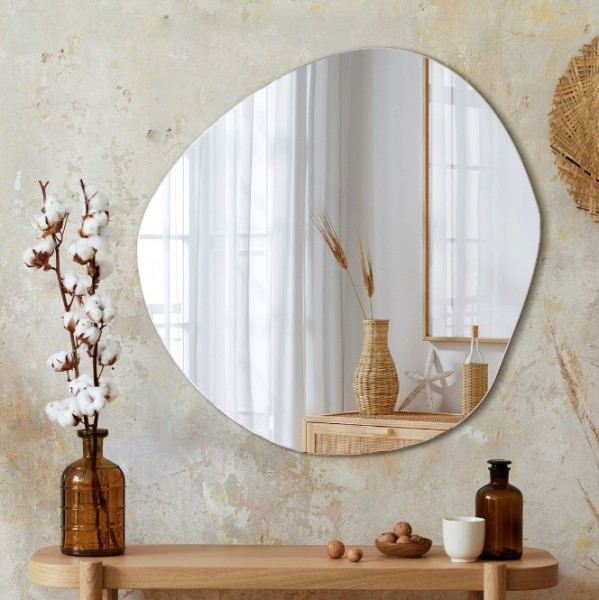 Irregular mirrors
[results: 4]
Our range of asymmetrical and teardrop-shaped mirrors are true statements of design, perfect for those looking to bring an individual touch to their homes. The LED-lit mirrors not only brighten your space but also offer a distinctive look that can't be replicated.
The asymmetrical cloud-shaped mirror is an enchanting piece of art. With its irregular shape and frameless design, it brings a whimsical and airy feel to any room. It is the perfect piece for those seeking something extraordinary and unique.
The irregular tear-shaped mirror captures attention with its singular shape. The frameless design amplifies its uniqueness, turning a simple mirror into an exquisite feature. Its shape introduces a soft, fluid aesthetic to your interior, perfect for a minimalistic, yet distinctive look.
Our asymmetrical LED illuminated mirror is not just a mirror; it's a piece of art that brings both light and style to your space. The LED lighting illuminates the irregular shape of the mirror, creating a cozy and inviting atmosphere. You have the option to choose between warm, cold, or neutral light tones, allowing you to tailor the ambiance to your personal preference.
The teardrop LED illuminated mirror combines the elegance of an irregular shape with the practicality of LED lighting. This mirror is more than just a functional piece; it's a statement. The soft light radiates from behind the teardrop shape, creating a captivating aura around the mirror. The choice of light tones allows you to customize your lighting experience, bringing warmth, coolness, or neutrality to your room.
Our collection of asymmetrical and teardrop-shaped mirrors promises to deliver a distinctive aesthetic to your space. Be it the LED illumination, the frameless design, or the unique shapes, these mirrors are the perfect blend of functionality and style. Take the step to transform your home or office; discover the charm of our irregular shaped mirrors. Your space deserves this touch of modern elegance and lighting versatility.