Mirrors in white frame
Step into our exquisite collection of white-framed mirrors, where simplicity meets elegance. Available in both round and rectangular shapes, these mirrors seamlessly blend into any decor style, from contemporary to classic. The white frame adds a fresh and clean look, enhancing the brightness and sense of space in any room. Experience how these versatile mirrors can uplift your interiors.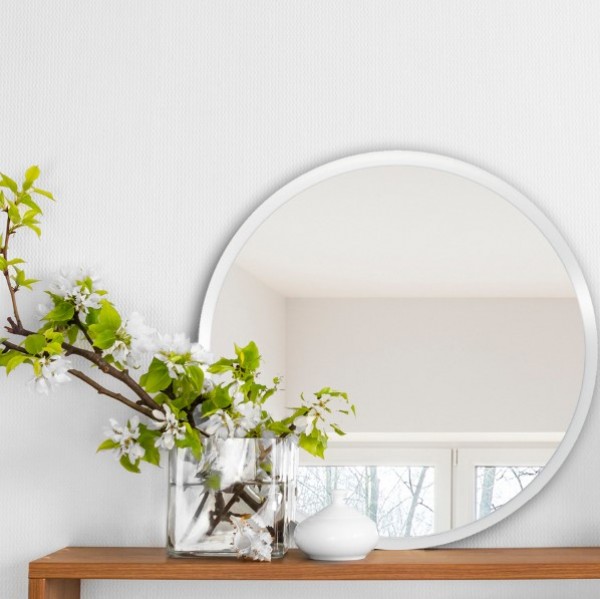 Mirrors in white frame
[results: 2]
Our white-framed mirrors offer a touch of sophistication and a breath of fresh air to any space. The neutral tone of the frame paired with the mirror's reflective surface is the perfect blend of functionality and style.
The white framed mirror is a timeless piece. The crisp, white frame adds a clean, fresh look to any room, making it appear brighter and more spacious. Perfect for the bathroom, living room, bedroom, or entryway, these mirrors easily adapt to any interior design, adding a touch of elegance and refinement.
The round white-framed mirror is a charming piece, combining the softness of the round shape with the freshness of the white frame. The mirror gives the illusion of added space, while the frame creates a contrast that allows the mirror to stand out. It is the perfect addition to any room and can instantly elevate the aesthetic of your space.
Explore our collection of white-framed mirrors and discover how they can transform your living spaces. With the versatility of fitting into any decor style, these mirrors are an investment in elegance and simplicity. Give your home the gift of brightness and a sense of space that only our white-framed mirrors can offer. Embrace the allure and timeless charm of these pieces today.