Semicircular mirrors
Embrace the beauty of simplicity with our stunning collection of semi-circular mirrors, impeccably designed to suit various styles of decor. These elegantly curved mirrors, available both with and without LED illumination, infuse charm into any space while creating an illusion of expanded room size. Enhance your daily living experience with a touch of sophistication and practical utility these mirrors provide.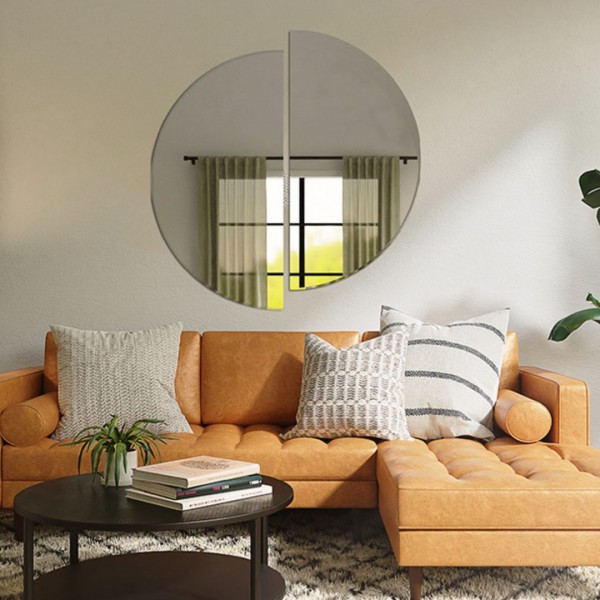 Semicircular mirrors
[results: 2]
Step into a world where style meets function. Our semi-circular and semi-circular LED mirrors come in multiple sizes, adept at fitting diverse settings and fulfilling various needs.
Semi-Circular Mirror: The sleek, half-moon design of our semi-circular mirror adds a touch of elegance and uniqueness to your room. Its frameless architecture enhances its visual appeal while the high-quality glass guarantees clear reflections. This mirror is ideal for spaces that can benefit from an open, airy feel.


Semi-Circular LED Mirror: Complement your aesthetic taste with our semi-circular LED mirror. This magnificent piece, besides fulfilling the traditional function of a mirror, also offers soft, energy-efficient LED lighting. The LED lights add a captivating ambiance to your space, making this mirror not just a decorative item, but also a source of mood-setting light.
In the realm of home décor, mirrors are indispensable. Our semi-circular and semi-circular LED mirrors promise more than mere functionality; they promise an upgrade to your lifestyle. Don't miss out on a chance to bring this touch of elegance to your home. Browse through our collection today, find your perfect mirror, and transform your space into a sanctuary of style and comfort.