Mirrors in black frame
Immerse yourself in our refined collection of black-framed mirrors, where sophistication meets contemporary design. Available in both round and rectangular shapes, these mirrors effortlessly infuse a touch of luxury into any decor style. The black frame brings an edgy, stylish appeal, adding depth and intrigue to any room. See how these versatile mirrors can elevate your interiors.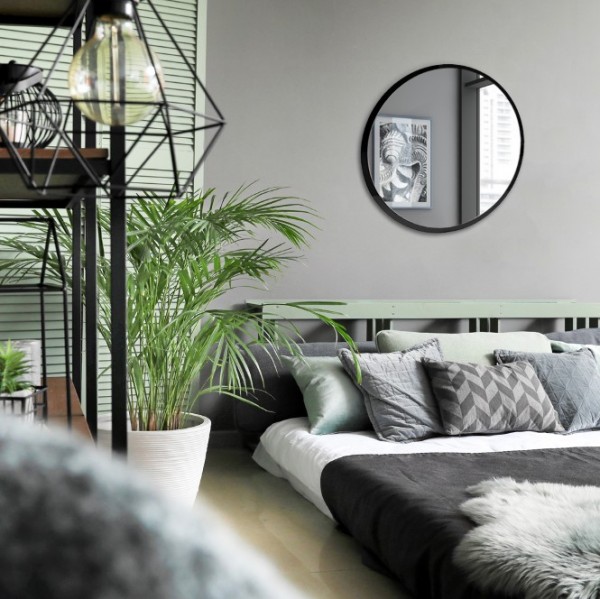 Mirrors in black frame
[results: 2]
Our black-framed mirrors are synonymous with modern elegance. Their striking contrast offers a dynamic play of light and shadow, seamlessly combining functionality with high-style.
The black framed mirror is a true classic. The sleek, black frame adds a bold, modern look to any room, creating a rich contrast and enhancing the room's overall aesthetic. Perfectly suited for living rooms, bedrooms, bathrooms, or entryways, these mirrors adapt to a variety of interior styles, adding a layer of luxury and depth.
The round black-framed mirror is an embodiment of chic, modern design. Its gentle curves are beautifully offset by the sharp contrast of the black frame. This mirror adds a dynamic element to your room, while the frame offers a striking visual effect that allows the mirror to become a focal point. It's an excellent choice for those looking to inject style and a touch of modernity into their space.
Explore the allure of our black-framed mirrors and discover how they can transform your living spaces. With the ability to complement any decor style, these mirrors represent an investment in modern luxury and style. Elevate your home with the depth and intrigue that only our black-framed mirrors can offer. Experience the fusion of sophistication and contemporary design today.