Italian tile decals
Decorating an old bathroom or kitchen with tile stickers can be a fun and easy procedure. The wonderful shades that are available in our store are colorful, modern, fresh and offer something for every taste. Personally, we love our sets of Italian tile decals. Thanks to them, you can change your room in a simple and quick way, giving it an original look. Bet on innovation and originality and start designing your new interior with us today.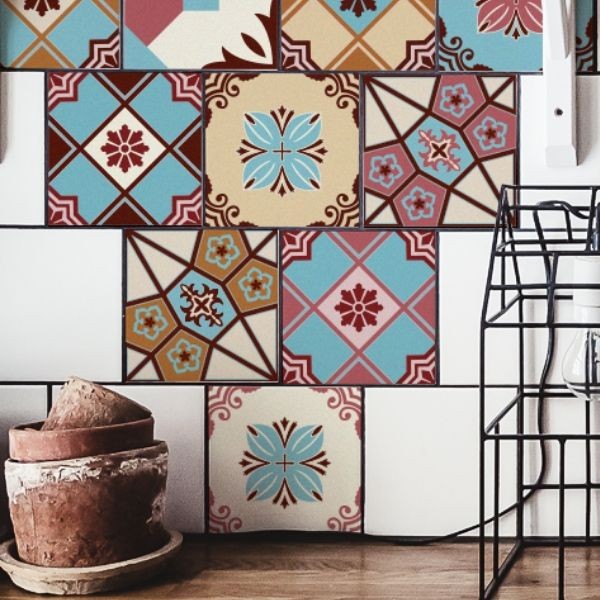 Italians are famous for their hand-painted tiles in intense, rich colors. Their favorite shades, i.e. ocean blue, cherry red and sunny yellow, are associated with wonderful summer. Thanks to Italian tile decals, this wonderful warm atmosphere can also come into your home. These stunning decorations with beautiful geometry and Renaissance designs will become a distinctive element of your home. Beautifully decorated Italian tile decals are all you need to give any surface a completely new look. Regardless of where you use them, in a few minutes you can create the illusion of rebuilding the entire room. Italian tile decals is an easy and cheap way to metamorphosis of kitchen and bathroom walls.
Thanks to them you will change your monotonous and boring tiles to stylish decorations. Forget about stains and tears! Our stickers, made of high-quality, water-resistant material, will be resistant to dirt and damage. In addition, they are printed on an innovative,
self-adhesive material that allows them to be repeatedly applied and peeled off
(without damaging the surface underneath). So change the look of your kitchen or bathroom tiles as many times as you like and whenever you feel like it. The highest quality of printing and attention to detail will allow you to match our
ceramic tile stickers
to any arrangement. So designed will be an interesting addition to your interior and will surround it with a special, unique mood.