Office wall decals
A home office is a challenge. If you can afford a study, it is worth decorating it in a functional and comfortable way. If you work from home, it is worth investing in a comfortable chair and desk that will allow you to work comfortably.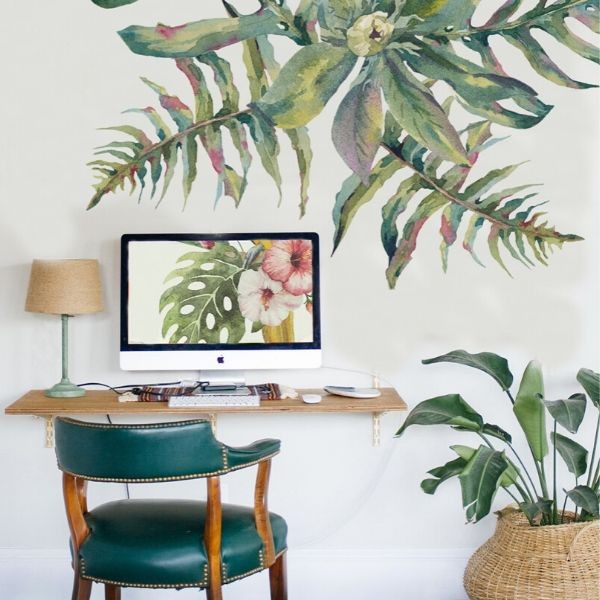 Home office - luxury not for everyone
Unfortunately, not everyone can afford a separate room in the apartment to arrange it as a place for work and entertainment. When arranging such a room, remember to include a lot of green plants and greenery that will help you relax your tired eyes. It is also worth remembering the large amount of daylight in the workplace. A comfortable chair and a well-chosen office will prevent your spine from being overworked with multi-family work. If you want to arrange your office in the old style, all you have to do is put on one addition with a floral motif. Wall stickers will work in this role - they are small, adapted to the needs and made of a material resistant to dirt and tears. If you choose a sticker with a banana or monstera leaf you will feel like in the Amazon forest.
How to create a place for remote work?
If you do not have an additional room that can be adapted to the office, you have to contrive. While working from home, it is good to separate a closed space where you work. Such clear boundaries will allow a balance between work space and home life. This will also help wall decals, which will mark the borders of your "office" in the living room or kitchen. With unlimited choices of colors and motifs, wall decals match any style and interior. They are extremely easy to install and will serve you for many years, enjoying the eye with vivid colors. Before applying the sticker to the wall, make sure that it is not covered with latex or acrylic paint to make sure that the sticker will stick to the wall. If you want to remove it, just peel it off gently, without damaging the layer underneath.