Houses wall decals
Modern interior decorations, such as our houses wall decals, help you decorate quickly the room for any occasion and season. Thanks to them, you can easily and quickly add innovative accents of the decor to empty, boring walls. They will change the look of your room, adding fun, beautiful and colorful patterns to the entire arrangement.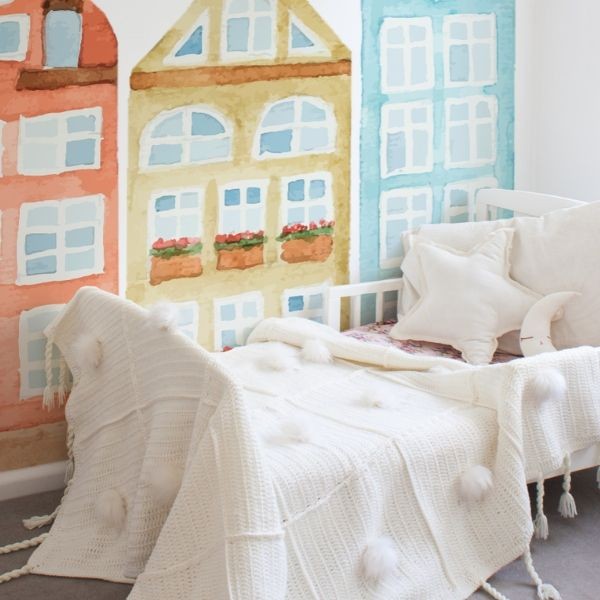 Our sets of self-adhesive wall stickers are a great alternative to painting or wallpapering. Forget about long renovations, clutter and high costs of renovating a room. Wall decals do not require long hours of work, lubrication with glue or moving furniture. Simply choose the pattern you like best and change the look of your room in less than an hour! If you have already decided on this innovative technique of decorating and you are just standing before choosing the right motif for the room, then pay attention to our
houses wall decals
. Our collection of fun and high-quality
stickers for the children's room
will help each parent find something interesting for their own children. Thanks to these fancy decorative elements with a modest budget and minimal effort, you will create a perfect place for your children to play and relax.
Awaken their imagination and inspire to endless creativity. Choose one perfect pattern, thanks to which you will enjoy a wonderful, modern arrangement. Amazing and fancy self-adhesive houses wall decals are sets that are ideal for decorating a children's room. Thanks to their unique design, they are also great at the preschool hall or in the playroom. The highest print quality and attention to detail of our wall decals will allow you to match them to any arrangement. So designed will be an interesting addition to your interior and will surround it with a special, unique aura. Let your imagination run wild, play with patterns and you will enjoy the new, wonderful and modern look of the room. The interior designed in this way will please your eyes for many years.