Moroccan tile decals
Innovative home decorating with self-adhesive, waterproof decals has become very popular. Long renovations, clutter and high renovation costs are a deterrent, which is why we are increasingly turning to more convenient alternatives. Tile stickers are a quick, easy and cheap solution for kitchen and bathroom metamorphosis. This fashionable and simple way to transform, gives the rooms a unique character, thanks to its wonderful and interesting designs.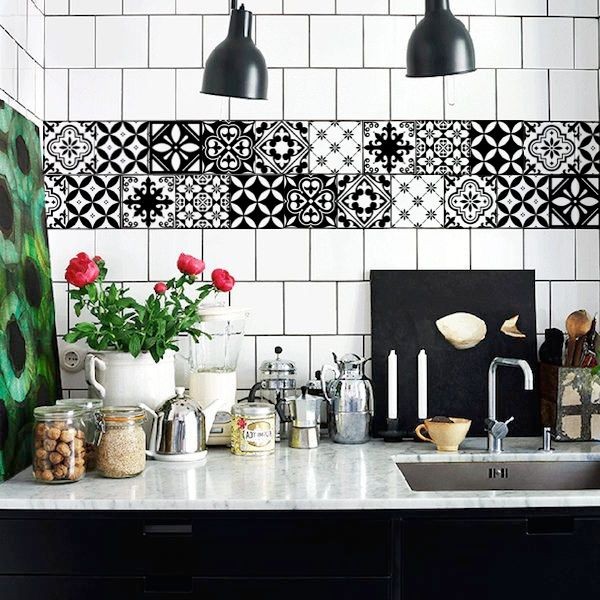 Thanks to the unlimited number of motifs and colors in our collection, you'll be able to choose the right decals for the tiles so that they match the arrangement of your home. Cover your outdated and ugly bathroom or kitchen tile designs with our Moroccan tile decals. They will make the tiles look expressive, full of color and unique designs. If you like splendor, elegant and intricately decorated ornaments, then Moroccan style is created for you. In an easy and fast way, you will conjure up your original and unique piece of Morocco in your home. The Moroccan style is full of unique contrasts and shapes. This combination will look great on kitchen and bathroom panels. Thanks to Moroccan tile decals, you will get rid of boring walls and create a stylish room.
Everyone will find something original and unique in our collection. Find your perfect pattern and enjoy the modern arrangement. Moroccan tile decals are an unusual and simple way to decorate the kitchen and bathroom. They are printed on an innovative, self-adhesive material that allows them to be repeatedly applied and peeled off. Thanks to this, you can change the appearance of kitchen or bathroom tiles more often (without damaging the surface underneath) and choose another wonderful motif from our collection. The highest print quality and attention to detail will allow you to match our Moroccan tile decals to any arrangement. So designed will be an interesting addition to your interior and will surround it with a special, unique aura.