Turkish tile decals
Change the look of your kitchen and bathroom tiles as many times as you like! With our tile stickers it will become quick, easy and convenient. This modern and easy-to-use way to transform home interiors will give your rooms a unique character. Our sets of self-adhesive Turkish tile decals, are a great alternative to long-lasting renovations, clutter and high tile replacement costs.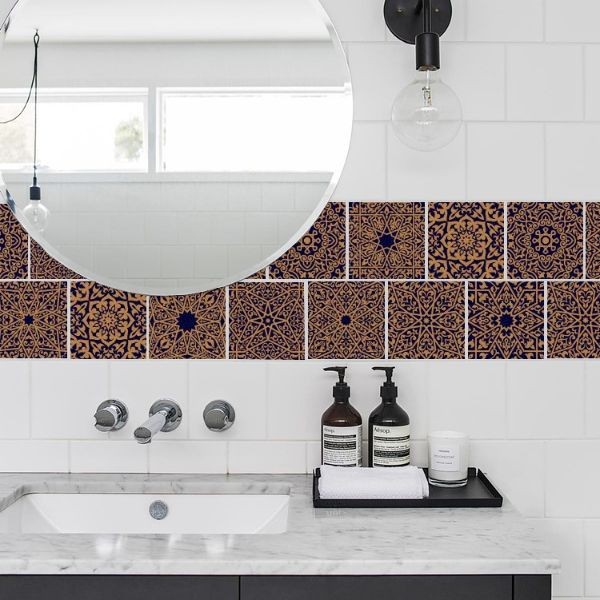 If you want your home to stand out so many others, then consider adding a Turkish tile decals which are designed along the lines of the popular Turkish Iznik motif. Original Turkish blue and turquoise tiles are hand painted and are suitable for bathrooms, kitchens, stairs and floors. Thanks to our Turkish tile decals, you can introduce this amazing style to your kitchen or bathroom. In your home comfort you will find an unusual mix of delicate and bold graphic designs that attract attention and provide a luxurious character. If you are looking for something stylish and elegant, then Turkish tile decals are created for you. Thanks to them, more than one room will get a distinct look. Such interesting designs and their colors will make your space fill with a calm and harmonious atmosphere, and the glaze will take the form of extraordinary and original accessories.
The unique design of this wonderful decorative element will allow you to make a metamorphosis of your kitchen or bathroom panels quickly and easily, without high investment. Turkish tile stickers are the fastest and cheapest way to change kitchen and bathroom walls. Change your monotonous and boring tiles to elegant and stylish decorations. They are made of high quality, waterproof material, so you do not have to worry about getting them dirty and damaged. Bet on modernity and originality! Our removable tile stickers can become an alternative form of decorating your apartment. Tiles decorated in this way will attract the attention of household members and guests.