Mirrors with LED backlight
Illuminate your home in style with our collection of LED mirrors. Perfect for any room, these mirrors not only provide practical light but also introduce an element of modern design to your space. Available in a variety of shapes - from half-circular and oval to square and teardrop, there's a LED mirror to suit every taste. Select the type of light - warm, cold, or neutral - to match your mood or decor.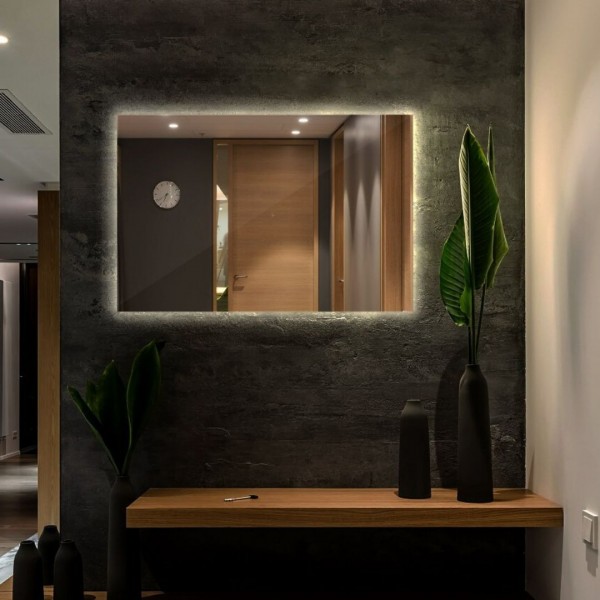 Mirrors with LED backlight
[results: 6]
Mirrors with LED backlight
A LED mirror is more than just a functional piece; it's a statement. Offering an array of shapes and lighting options, these mirrors brighten up your space while offering a stylish solution for checking your reflection.
A half-circular LED mirror provides a soft and pleasing aesthetic, perfect for modern spaces. With customizable light options, it adds a touch of sophistication wherever you place it.
An oval LED mirror provides a classic silhouette with a modern twist. The LED lighting can turn a simple task into an experience, creating an ambiance that feels luxurious and modern.
With its clean lines and even illumination, a square LED mirror provides a minimalist look. The balanced light distribution helps you see clearly, making everyday tasks a breeze.
Our teardrop LED mirror, with its unique shape and subtle lighting, makes a dramatic statement. It stands out as a piece of art while providing practical lighting solutions for your home.
For a more eclectic taste, our asymmetrical LED mirrors offer an offbeat charm. Their irregular shapes coupled with the bright LED lights make for an attention-grabbing piece.
LED mirrors provide a perfect blend of functionality and style. They not only illuminate your space but also add a touch of elegance and modernity to your home. Browse through our collection and find the perfect LED mirror that suits your style and lighting needs.