Oval mirrors
Discover our stunning range of frameless oval mirrors and oval LED illuminated mirrors, perfect for elevating any modern home or office space. Whether you're searching for a mirror for daily grooming or to add an extra touch of brightness to your room, our oval mirrors meet every need. Choose between warm, cold, or neutral light tones to create the perfect ambiance for your space.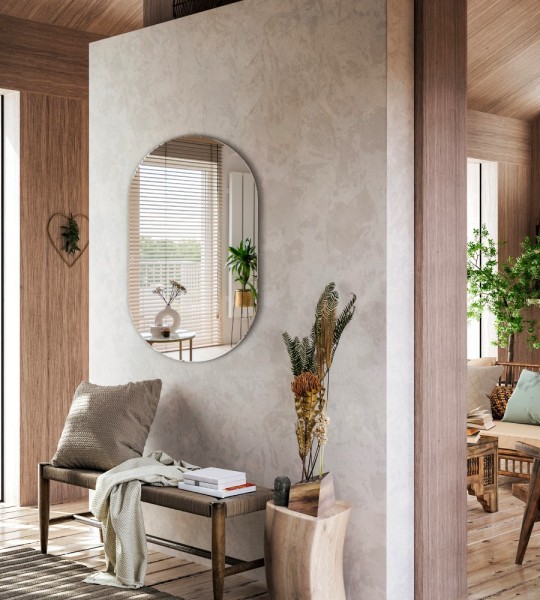 Our oval mirrors are beautiful pieces that add an element of sophistication and elegance to any room. The frameless design exudes a modern feel, while the LED illumination enhances details and creates a cozy atmosphere.
The frameless oval mirror is a great choice for those favoring a minimalist aesthetic. Its elegant lines and smooth curves provide a sense of lightness and space, ideal for compact rooms. The frameless design means the mirror is easily adaptable to any interior, from classic to modern.
Our oval LED illuminated mirror is a fantastic solution for those seeking something extra. The LED lights not only provide sufficient illumination for daily tasks such as makeup application or shaving but also offer a soft and comfortable light to the room. The option to choose between warm, cold, and neutral light tones enables light personalization according to your taste and needs.
Whether you're looking for a mirror for a small bathroom or a large living room, our oval mirrors are the ideal choice. The blend of frameless design and LED illumination ensures these mirrors are not only functional but aesthetically appealing as well. Don't hesitate, discover how our oval mirrors can liven up your home or office. Transform your spaces with the touch of elegance and functionality that our LED oval mirrors offer.