Mexican tile decals
Bet on modernity and originality! Cover your outdated and ugly bathroom or kitchen tiles with our self-adhesive, waterproof and easy-to-apply Mexican tile decals. This innovative and fashionable way to transform a home's privacy, gives the rooms a unique character thanks to its wonderful, interesting designs. Using a set of stickers on the tiles will become an ideal alternative to long renovations, endless clutter and high renovation costs.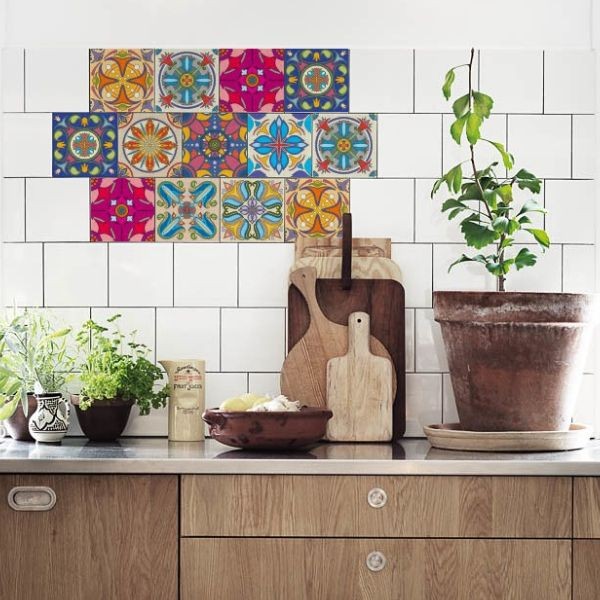 Mexican tile decals will make existing tiles acquire a distinctive look, full of color and unique designs. If you like intense shades then the Mexican style of our tile stickers is created for you. You will conjure up your original and unique piece of Mexico in an easy and quick way. Bring this wonderful color palette to your home! Thanks to our decals, you will find colors such as red, orange, yellow and turquoise in your interior. The Mexican style is full of unique contrasts and shapes. This combination will look great on kitchen and bathroom panels. Thanks to Mexican tile decals, you will get rid of boring walls and create a warm, friendly and joyful room. Get inspired and stimulate your creativity! Everyone will find something for themselves in our collection.
Find your perfect pattern and enjoy the modern arrangement. Our tile stickers are printed on an innovative, self-adhesive material that allows them to be repeatedly applied and peeled off. Thanks to this, if after some time you find that it is worth changing the appearance of kitchen or bathroom tiles again, you will be able to remove easily the old ones (without damaging the surface underneath) and choose another wonderful theme from our collection. The highest print quality and attention to detail will allow you to match our Mexican tile decals to any arrangement. So designed will be an interesting addition to your interior and will surround it with a special, unique aura.