Canvas prints - lakes
Paintings with a lake motif are a versatile wall decoration dealing with themes related to nature. For our collection, we have chosen abstract landscapes and those that are very realistic. This gives you the opportunity to make a choice best suited to you and your interior.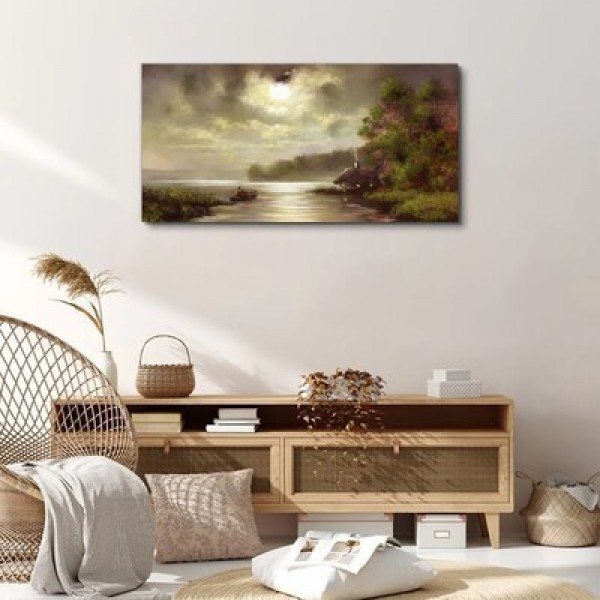 Modern canvas prints - lake view
We offer canvas prints that perfectly reflect what is depicted in the original painting or drawing. We present many options that you can choose from. A boat on the lake, plants surrounding the shore, animals living by the water - these are just a few of the multitude of suggestions we have for you. There is no shortage of works in painting that take on the theme of landscapes with a lake in the lead role. There are atmospheric views with the setting sun and the bottom of the water bathed in moonlight. We have also reached for minimalistic and abstract patterns which loosely interpret the theme of landscapes. Paintings with a lake are a good choice for any room in the house.
Of course, the first association is a bathroom or a bathing salon. Here, the water theme is the most natural and will fit perfectly into the arrangement, if you choose the colors properly. Images of lakes also work well in everyday rooms, and even in the bedroom.
Paintings with the lake motif
Consider which illustration is more suitable for your interior. However, no matter which artwork you choose, the visual experience is amazing. The minimalist setting of the picture makes the gaze focused on the depicted theme. See how interesting a landscape with a lake in the main role, or backgrounds for plants, animals, or people can look like.
Also, check the glass prints with a lake.