Pineapple wallpapers
Unique and fun pineapple wallpapers will liven up the interior, while subtle uniform backgrounds really let them pop out and create the WOW! Effect. The combination of the bright color of pineapple with the green of its leaves is definitely a good choice for the interior, if you want to create a cheerful and sunny room, and pineapples will certainly encourage a joyful atmosphere, wherever they are.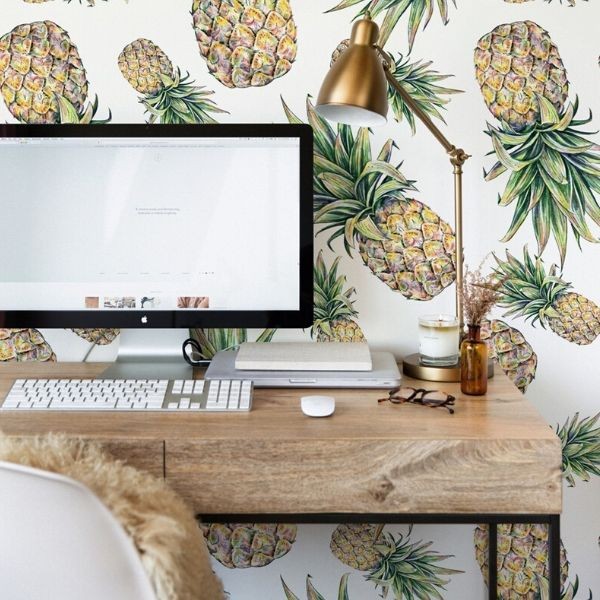 Glamour
Colonial
Contemporary
Boho
Baroque
Shabby Chic
Art deco
Retro
Classic
Abstract
see all
Modern
Scandinavian
Vintage
It's the perfect fruit to eat on a hot summer's day and naturally the queen of all fruit because it has a crown! Pineapples are also considered the word "welcome" in the south and symbolize the advantages that we appreciate in our home - friendship, hospitality and warmth. Pineapple originally calls Brazil its home. It was the Portuguese and Spaniards who spread it all over the world, and in fact the Spaniards gave the fruit the name "pineapple" because of its appearance, because they resembled cones. Because the fruit was so perishable, it became a symbol of luxury, nobility and wealth throughout Europe. A single pineapple can make a fortune. So the host who was able to introduce the freshly cut pineapple to his guests was the one with the money, power and connections
You don't have to stop at one, with our wallpapers you can have dozens of them! Our wallpapers will add a touch of color and will blend in perfectly with any type of decor. You can use our wallpaper on our original and innovative self-adhesive wallpapers in the MagicStick system. If you are looking for an easy solution that will change the appearance of the walls and the decor of the room, then you are in the right place! Our wallpapers are extremely easy to install and can be easily removed if needed and moved to another place!