Tiles wallpapers
Available authentic-looking tiled effect anywhere thanks to our range of wallpapers that look like ceramic tiles. We have a choice of many colors, textures and wallpaper patterns that will help you design your dream interior, apply whether you have to be in a country style or maybe English boho?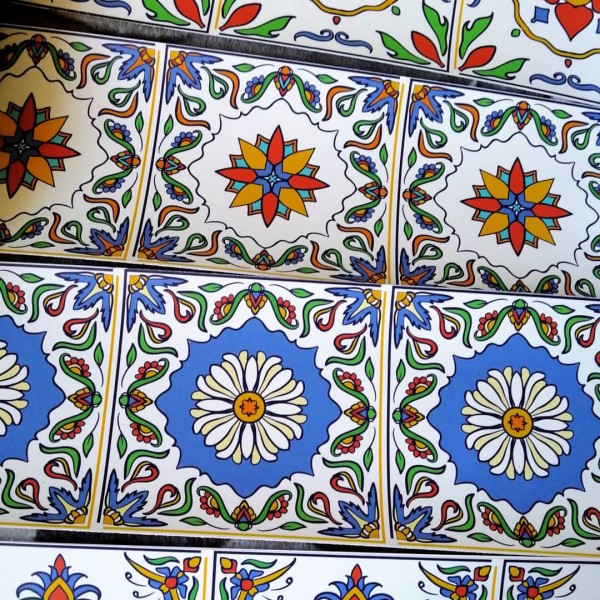 Vintage
Ethnic
Art deco
Oriental
Eclectic
Boho
Industrial
Rustic
Scandinavian
Modern
see all
Minimalist
English
Colonial
Classic
Abstract
Retro
Contemporary
Wall mural instead of tiles
Match the wallpaper to the furniture and decor to allow you to use the way to refresh your home. Our tile designs are an ideal alternative to wallpapers in the kitchen or bathroom. Thanks to the realistic texture and joints, the wallpaper with tile effect adds deeper to your walls - just like in reality. These clever designs are ideal for quick interior updates without unnecessary clutter. Add your interiors to your splendor with the wallpaper with golden decorations. The notes of reflected light cast extraordinary reflections and will add a modern touch to any use - ideal for combining with velvet, soft furniture. Find more complicated tile designs in a Moroccan-inspired mosaic wallpaper culture that thrives in artistic or boho style flats. In a design with rich colors, this design provides a beautiful focal point for guests to enjoy.
Classic tile patterns on photo wallpapers
You can also choose a wallpaper that will disturb the paradise of every perfectionist - it includes patchwork wallpaper, with a mixed picture.
Our wallpapers will add a touch of color and will blend in perfectly with any native decor. You can use our list on our original and your own self-adhesive wallpapers in the MagicStick system. If you're looking for an easy solution that changes the look of your wall and living room, you're in an accessible place! Our wallpapers are very easy to install and can be easily removed if needed and content elsewhere!