Bedroom wallpapers
The bedroom is the second, after the bathroom, the most challenging room in the whole house. Anyone planning a change of bedroom dreams of a large, double bed and a comfortable mattress. Of course, good rest is the basis of our daily functioning but how to decorate the bedroom so that it is beautiful and functional at the same time?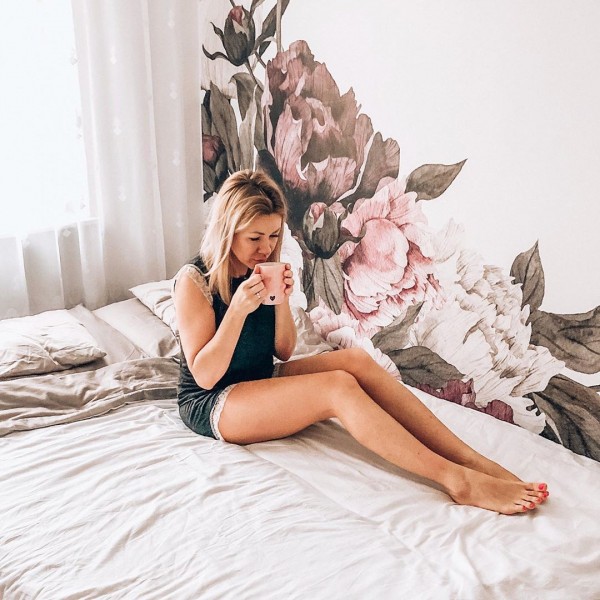 Vintage
Ethnic
Colonial
Retro
Oriental
Country
Art deco
Minimalist
Classic
Baroque
see all
French
Abstract
Victorian
Glamour
Rustic
Eclectic
Provencal
Shabby Chic
Scandinavian
Modern
English
Boho
Japanese
Contemporary
Industrial
Use bright colors and pastel accessories to bring out subtlety and delicacy
In spring/summer 2020, flowers reign in the bedrooms. Huge, watercolor buds of roses and peonies and small, tiny floral patterns on the walls do a good job. This season, the bedroom is a woman, mysterious, subtle and delicate who letting you inside, opens the veil of a deeply hidden secret. Bedrooms in the boho style have a huge potential that should be used by refreshing the interior. Delicacy and subtlety combined with flowers is the perfect combination for both a teenager's bedroom and a matrimonial bedroom. Until recently, Scandinavian style mastered all interiors, now this trend is heading towards the ethereal subtlety of the boho style.
White in combination with flowers builds a mood
Raw Scandinavian white is great in the kitchen or living room. The bedroom is a place where we not only dream, but also dream and build relationships. The sterile climate was not conducive to building a romantic mood and overwhelmed the interior. Of course, you do not have to completely give up white, just insulate it with the appropriate accessories. This season, they will be flowers. Purple, purple, cream or pastel flower buds are a beautiful decoration that will give the interior subtleties.
You can find these motifs on self-adhesive murals, which are not only fashionable but also original. In addition to floral decorations, living plants such as orchids, flowering cacti and amaranths work well in the bedrooms.
If you do not like living plants, choose succulents that will liven up the space with lush greenery.
Create a May meadow on your wall
May is the most beautiful month of the year, in which nature comes to life and flourishes with full color in forest glades. Wildflowers are the most beautiful gift of nature, although they are fragile and unstable. May meadows inspired us to create self-adhesive wallpapers with the motif of small flowers and grasses, in various shades of color. This is our nod to Mother Nature, who conjured the most beautiful decorations for us. Our flowers will not fade quickly, so you should use self-adhesive wallpaper with a meadow theme to decorate the bedroom. This composition will enliven the interior, bring out the subtle character and make the fragrance of May flowers stay with you for a long time. Removable wallpaper will work in both small and large bedrooms. For the wallpaper to hold well, make sure that the base paint does not contain latex and acrylic. Installation will not take you more than 30 minutes, and the effect will delight for a long time. Refresh your bedroom today, giving it a unique glow.