Office wallpapers
Nowadays, remote work is a real luxury to work from home. Not all of us can afford a quiet job, having children at home that require constant attention. However, it is worth providing space for remote work as far as possible. Sometimes it is enough to slightly change the living room or kitchen to get space for a laptop.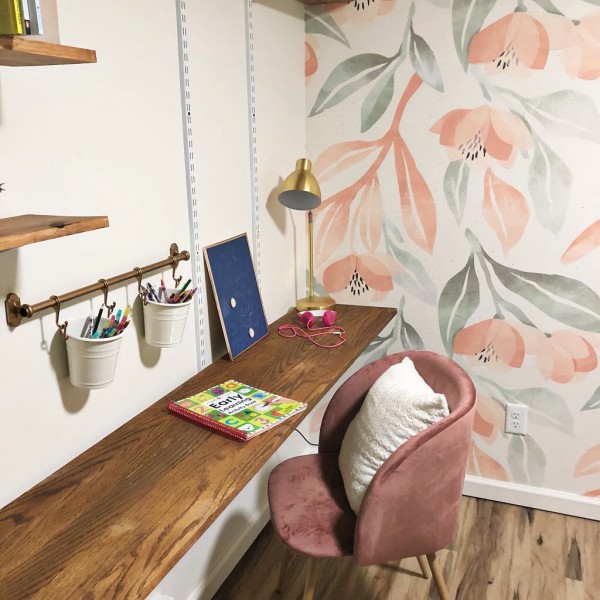 Colonial
Retro
Oriental
Country
Art deco
Minimalist
Classic
Baroque
French
Abstract
see all
Victorian
Glamour
Rustic
Eclectic
Shabby Chic
Provencal
Scandinavian
Modern
English
Boho
Japanese
Contemporary
Industrial
Vintage
Ethnic
How to arrange a place for remote work?
If you can afford a study - you are a real lucky guy. All you have to do is close the door behind you and you can focus on your work. However, if you do not have an additional room, just arrange the living room or kitchen to find a place for a comfortable armchair and laptop. Regardless of whether you work in your office or in the kitchen, there are a few rules to keep in mind. First of all - surround yourself with greenery that relaxes tired eyes. Remote work affects performance, we work more and take less breaks, which has a definitely detrimental effect on eyesight. It is worth investing in live plants with extensive, green leaves, and stick a self-adhesive jungle wallpaper on the wall. If you've ever dreamed of a home jungle, the office is created for this. The more greenery, the better! Secondly - a comfortable chair. We sit more, our backs suffer more. It is worth taking care of them and taking frequent breaks, but above all, invest in a comfortable chair for work. Third - set boundaries. Determining the boundaries between the work space and the rest of the home is very important, especially if it is difficult for us to disconnect from the work space and turn it back home. In the case of an office, closing the door solves the problem. When separating the work space from the everyday part of the kitchen or living room, make sure to separate it from the rest of the room, whether using a curtain or a screen.
Home office - the biggest disadvantage or advantage?
Work from home is definitely a difficult art. Not everyone can separate home from work, which is why we often go tired and sleepless. Sometimes there is also extra work. On the one hand, remote work is comfortable, you work in a safe and familiar space, you organize your day on your own. On the other hand, after a long period of such functioning, the boundaries between "home" and "office" are beginning to blur, which can cause stress and frustration. How to deal with it? Designating space only for work. Removable wallpaper with a botanical motif is great both as a decorative element and a relaxing sight, but also as a subtle drawing of the border between home and work space. Take advantage of the fact that you work from home and surround yourself with relaxing objects, remember also about gentle, relaxing music and exercises. Yoga and meditation will work well in this role. Take breaks every hour and look at the green outside the window. Take short walks. When designing a home office, remember that it is intended for your concentration, creativity and comfort.