Giraffes wallpapers
Giraffe means majestic beauty and royal aura. Also called the "delicate giant of Africa", it symbolizes grace, peace, individuality, protection and communication. A gentle giraffe with a long neck reaching to the heavens symbolizes the ability to look ahead and get things that would normally be out of reach.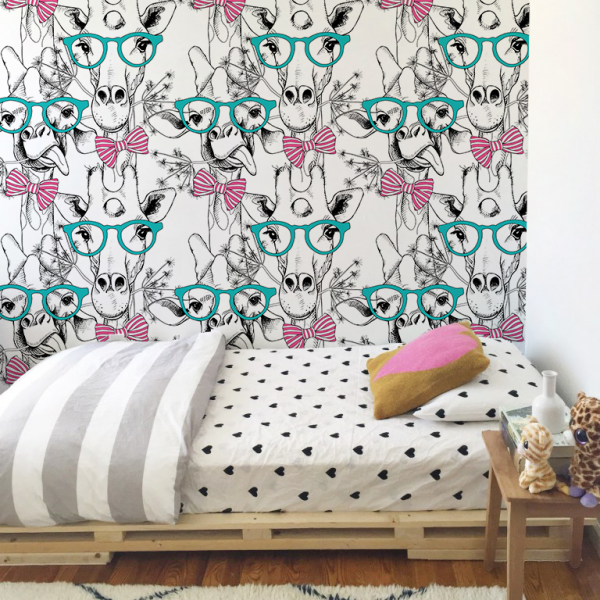 Colonial
Shabby Chic
Vintage
Art deco
Classic
Scandinavian
Modern
Abstract
Contemporary
Wallpaper with a giraffe motif
Giraffes grow up to five and a half meters in height, the only sensitivity of the giraffe is the need to lower his head to drink water. Fortunately, this creature withstands a lack of water for over a month. In this aspect, the message of the giraffe becomes a wise use of our resources, as well as keeping feet on the ground without losing a higher perspective and guidance. While a giraffe may not look scary, one quick kick can kill a predator. In this way he protects himself and his calves. This skill gives the giraffe an additional meaning of security and strength when needed. The giraffe does not attack for a reason, but when this creature senses danger, it acts with great force. Therefore, by designing our wallpapers with animal motifs, we decided to celebrate this amazing animal.
Bring the African atmosphere to the interior
In our collection they find various wallpapers with the representation of a giraffe. Among them you can find beautiful and full of vivid colors wallpaper inspired by hot Africa, which will become the perfect decoration for any living room, bedroom or even bathroom! For children's rooms, we recommend softer wallpapers in more subdued colors and a softer line that immediately brings to mind this delicate side of the giraffe's nature. In contrast, black and white minimalist wallpaper will work in modern apartments and in a simple, Scandinavian style.