Living room wallpapers
Living room is the heart of the house. In such a place you can relax, share wonderful moments with your family and friends. It is also an interior that expresses your style, so you should decorate it with accessories that you love and without which you cannot imagine your home. Find amongst our wide range of living room wallpapers the perfect pattern that will give your room a unique - your - character.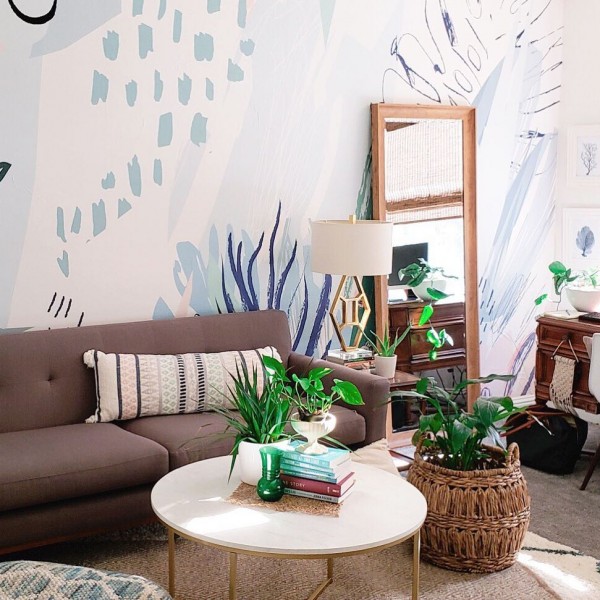 Vintage
Ethnic
Colonial
Retro
Oriental
Country
Art deco
Minimalist
Classic
Baroque
see all
French
Abstract
Victorian
Glamour
Rustic
Eclectic
Provencal
Shabby Chic
Scandinavian
Modern
English
Boho
Japanese
Contemporary
Industrial
Living room wallpapers- create your perfect interior
The living room is the part of the house we use most often, and thus it becomes a showcase of our interior. It is here that we spend free time with a family and invite guests. Therefore, we try to create an atmosphere in it that will perfectly affect our well-being and help you relax after a hard day at work. The perfect solution to bring the excellent climate to your living room will be the use of an interesting and creative wallpaper. By using such wall decorations, you can be sure that your living room will acquire a new, expressive and original look. Our wall murals for the living room, thanks to their unique designs will allow you to create an ingenious interior arrangement to suit your tastes. Stimulate your imagination with our collection of living room wall murals, trust your taste, or be inspired by current trends, and in a short time without having to carry out a long-lasting renovation, you'll enjoy a new, unique space.
Find your favorite wallpaper pattern for the living room
Design your living room so that you feel good in it and there you can build memories with family and friends. Make your room elegant and rich in beautiful details! Our collection of living room wallpapers includes designs that will help everyone find something for themselves. How about wall murals for a living room with flowers? Beautiful and delicate peonies, majestic roses, and maybe sunny chrysanthemums. Floral designs will blend well with furniture and accessories in every style and color. Thanks to them, you will get rid of boring walls and create a stylish and harmonious space. How about living room wall murals with geometric patterns? This unique and creative decoration option will make any interior more expressive.
Also pay attention to living room wallpapers with landscapes or
animals
. Almost all of us love to be in the bosom of nature, and thanks to our large-format murals, you can introduce these breathtaking landscapes to your space. A properly selected
landscape wallpaper
will make
your modern or classic room radiate originality and acquire a completely new character
. Choose between wallpapers with tropical vibrations, with
mountain peaks
or with sea inspirations, and you will create an elegant and stylish arrangement in your home.
Forget about long renovations - put on self-adhesive wallpaper for the living room
Living room self-adhesive wallpapers are an extremely fast way to decorate. They are famous for their ease of installation, and thanks to that, you can forget about a long, tiring renovation and mess. The self-adhesive material they are made will allow you to peel and stick them many times - without damaging the wall. Bet on modernity and originality during the transformation of home comfort and give your room a unique character, thanks to our wonderful and interesting designs. However, if you prefer traditional installation, we also offer vinyl wallpaper with non-woven base with exceptional resistance to difficult conditions. The non-woven base of our wallpapers for the living room makes the material resistant to deformation and stretching.