exotic wallpapers
Do you dream of an interior in which the holiday climate can be felt all year round? Bet on an arrangement that is kept in an exotic climate! What are the characteristics of this type of rooms? The dominant color here are shades of green, especially the cool ones, which are a direct reference to the tropical jungle and the vegetation growing there.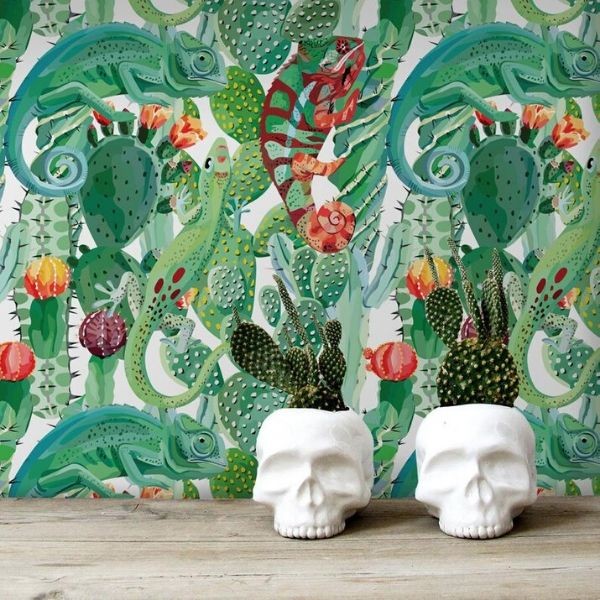 Colonial
Vintage
Oriental
Retro
Victorian
Country
Rustic
Art deco
Minimalist
Provencal
Classic
Modern
Baroque
Japanese
Ethnic
French
Abstract
Glamour
Shabby Chic
Eclectic
English
Scandinavian
Boho
Contemporary
What motifs can be found in exotic interiors?
Leaves reign here, especially monsteras, palms or banana trees. They are accompanied by colorful birds such as flamingos, parrots, toucans or hummingbirds. As far as the dominant materials are concerned, in exotic arrangements you can find, among others, exotic wood kept in dark colors. There are also bamboo or jute accents. If you want to give your interior a tropical character quickly, decide on one of our wallpapers. It is a good solution for arrangements maintained in a modern, minimalist, boho, vintage, abstract, ethnic, oriental or eclectic style. You can choose from dozens of different wallpapers, which delight with their original design. Very interesting are for example those with leaves of tropical plants in size XXL. They can be kept in natural colors or shades of white and black. If you're a lover of joyful interiors, put on the wall wallpaper with pineapples, coconuts or flamingos. All fans of multi-colored, eye-catching arrangements will certainly like the decorations with tropical birds and flowers. In which rooms will exotic wallpapers work best? You can successfully use them, for example, in the living room. In order not to overwhelm the interior, use them on a wall of your choice, for example the one with a TV or a sofa, or where there is a reading corner. Tropical wallpaper is also a great solution for the bedroom. The dominant greenery there will promote relaxation and tranquility.