Rabbits wallpapers
You may overlook the symbolic meanings of rabbits, because it seems to be such a small, shy creature. It's a bad idea. Rabbits offer big lessons on greater awareness of our environment and self-protection, especially if we sense a threat. Rabbits are also a symbol of fertility, family and new life.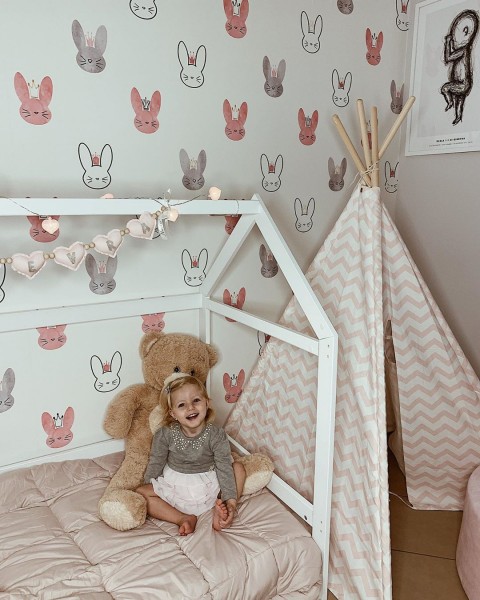 English
Vintage
Contemporary
Abstract
Classic
Scandinavian
Shabby Chic
Boho
Country
Wall murals with rabbits
The symbolic meanings of rabbits relate primarily to abundance, comfort and sensitivity. Traditionally, rabbits are associated with fertility, sentiment, desire and procreation. The meanings of rabbits are also closely related to the seasons, and more specifically in spring. Have you ever heard the term "crazier than the March hare"? It has to do with rabbits walking mad at this time of year. The rabbits feel the call of spring as strongly as everyone and everything else - perhaps even more. Another meaning of a rabbit is speed. He quickly approaches doing the things he loves and quickly recognizes the opportunities that will bring him closer to achieving his goals. But this does not mean that he feels comfortable wearing a spotlight, if it happens he escapes just as quickly.
Decorate a child's room with a wall mural with rabbits
Rabbit also represents shyness and modesty, and that there are still things in this world that you hesitate to do because of it. And for this reason we have tried to provide a very diverse representation of rabbits on our wallpapers - so that their every face is reflected.
Our rabbits wallpapers depict both small, fluffy and cute bunnies that will feel great in the children's room, where they will be the quintessence of innocence. There are also vigilant rabbits surrounded by forest and meadow motifs, which will feel good in a quiet place, away from the hustle and bustle - in the study, library or bedroom. There are also domesticated rabbits, who will gladly settle down comfortably in a house full of warmth, in the Provencal, country or English style.