Lavender wallpapers
Lavender flowers represent purity, silence, serenity, grace and peace. In addition to the importance of the flower, its purple color also has great symbolism. Purple is the color of the royal family and speaks of elegance, sophistication and luxury. Purple is also associated with the crown chakra, which is the energy center associated with the higher purpose and spiritual connectivity.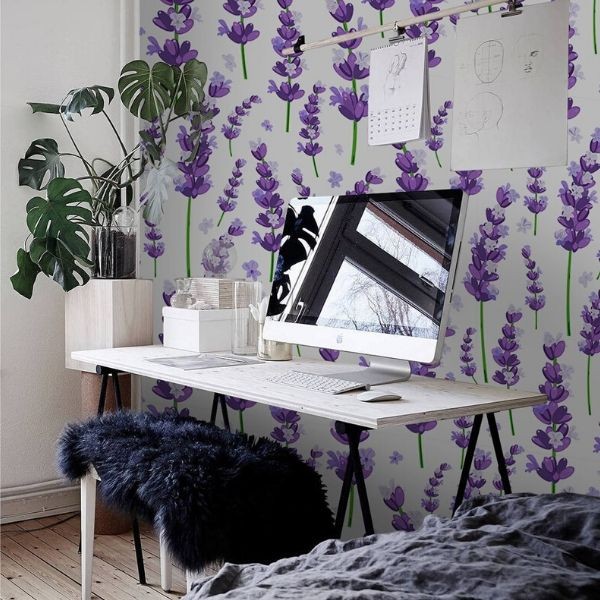 Provencal
Country
French
Japanese
Classic
Ethnic
Shabby Chic
Victorian
Baroque
English
see all
Boho
Retro
Scandinavian
Vintage
Wallpaper with a lavender theme
Lavender is widely used in aromatherapy and with minor injuries. Lavender infusions are thought to soothe insect bites, burns, acne, inflammation and headaches. Bunches of lavender are also known to repel insects. In pillows, lavender seeds and its flowers help you fall asleep and relax before bed, just like an infusion of lavender or a bath with the addition of lavender oil. That is why wallpapers with lavender motifs should be placed in the bedroom, because the very view of it soothes. Pastel colors also go great with children's rooms. They will bring a lot of warmth and make the room cozy and calm, and the child will not be afraid to fall asleep in it. The lavender motif is associated in the Provence style of architecture. Both the lavender color and the lavender flower motif gathered in characteristic bundles.
Lavender wallpaper
Therefore, Wallpapers in a light lavender color and with a lavender motif are great for a mixture of simple, Provencal, rural and even... Scandinavian styles! The delicate colors of lavender and its small flowers are a symbol of the warmth of the home and taking care of your family. Therefore, it is worth taking an interest in this motif if we want to build a happy family who are passionate about love for nature. The lavender motif and its fragrance have been associated for years with women who are faithful. Wives and girlfriends of soldiers often sent them letters sprayed with lavender oil or attached to them sprigs of dried lavender, which is why wallpaper with such a motif will be great in a woman's interior - a boudoir or wardrobe.