baby room wallpapers
Arranging a child's room is quite a challenge. It should be tailored to the interests and individual taste of the child. You can afford a little more freedom in a room that will be inhabited by a newborn baby. However, it is worth putting emphasis here on universal elements of decoration, which will look equally good in a few years' time. This way you can avoid costly renovation when your baby grows a bit older. In children's rooms you can very often find all kinds of wallpaper. It is hardly surprising - they present themselves beautifully, giving the interior a cosy character. Additionally, wallpapers affect the imagination of the toddler and protect the walls from the dirt that can occur while playing or eating.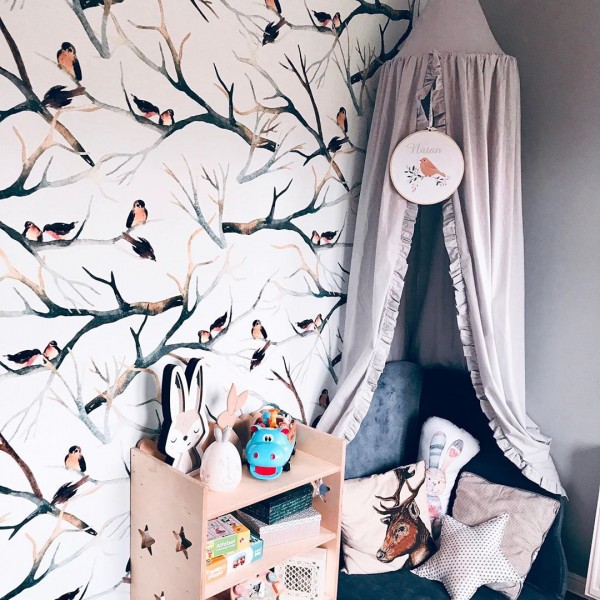 Country
Retro
Eclectic
Boho
Provencal
Ethnic
Vintage
Oriental
Classic
Modern
Minimalist
Abstract
Glamour
Shabby Chic
Scandinavian
Contemporary
baby room wallpapers
[wyników: 16]
How to choose the perfect wallpaper for your children's room? It shouldn't be too expressive and overwhelming. It would be better to give up strong colours and wallpaper patterns here. They can irritate the child and make it harder to concentrate, for example during education. Much better solution will be wallpaper maintained in subdued, slightly blurred colours. White, beige, grey and subtle pastels such as powdered pink, blue, peach, mint or vanilla will work very well here. Small, subtle patterns may appear on the living room wall wallpaper. Such decoration can be placed on all walls or limited to 1. You will find a wide range of original wallpapers for children in our assortment. If you are looking for universal decorations that will suit both the girls' and boys' rooms, choose wallpaper with a motif of sheep, owls, birds or balloons. Slightly older children will like the wall decorations with funny moustaches or colourful kaleidoscopes. The ideal solution for the girl's room is wallpaper with a floral motif. The boys, on the other hand, will like the wall decoration showing cars surrounded by a mountain landscape.