scene wallpapers
Bet on the interior filled with good design and art. Instead of a gallery of paintings, you can reach for wallpaper with a landscape or a scene inspired by classic paintings. This is an interesting solution that works well in both classic interiors and those in a typically modern style. If you are a fan of eclectic arrangements, this is a perfect proposition for you. Reach for the scene wallpaper with a dramatic view and characters who almost live on the wall with their own lives. Whenever you look at them, they will evoke new associations and stimulate the imagination. This is a great solution not only for home, but also for cafes or other types of business premises. The characteristic motif will make the interior unforgettable and good to associate with.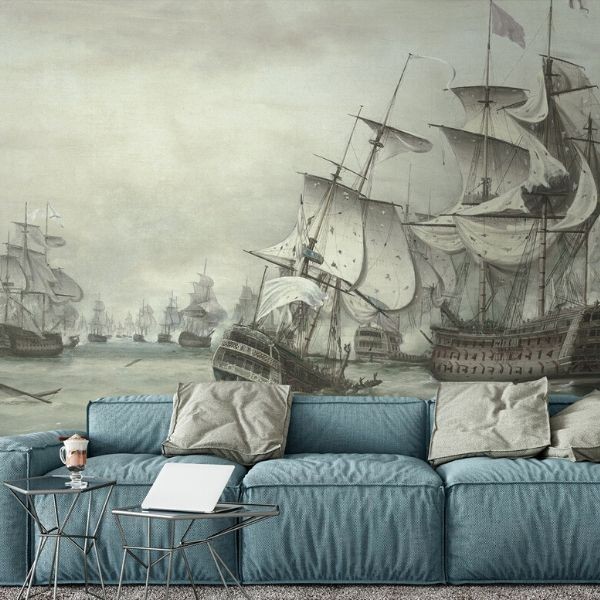 Abstract
Minimalist
Shabby Chic
Vintage
Victorian
Baroque
Provencal
scene wallpapers
[wyników: 4]
If you are interested in more subtle motifs, put on a scene inspired by nature, elements or weather phenomena. Storm clouds, waves or an abstract landscape are also views that act on the imagination, and at the same time less come to the fore. Looking at them, you'll be able to easily take your thoughts off of everyday matters and soar them somewhere far away. Such a theme will work on the wall in the living room, but also in the bedroom, where soothing motifs are desirable in moments of relaxation.
When choosing scene wallpaper, pay attention to what furniture will be in its vicinity. Do not let the pictorial scene be partially obscured by shelves or a sofa. You will lose the artistic effect and the visual spectacle will be incomplete. If, in turn, you reach for wallpaper with a fragment of the landscape, you have a little more scope to show off. Here, however, it is also worth presenting a beautiful view in all its glory. Therefore, it is ideal for placing above the headboard of the bed in the bedroom or sofa in the living room. It is no longer necessary to place other expressive decorations in its vicinity. The landscape itself will be an original interior decoration and for a long time will not get bored, thanks to the multitude of details and shades.