forest wall decals
Are you a nature lover, do you love being in the forest, do you love animals and gifts of the forest? Do you have a not enough time spent in the forest? There is a tip for it - create a unique, forest atmosphere in your home, using special wall decals.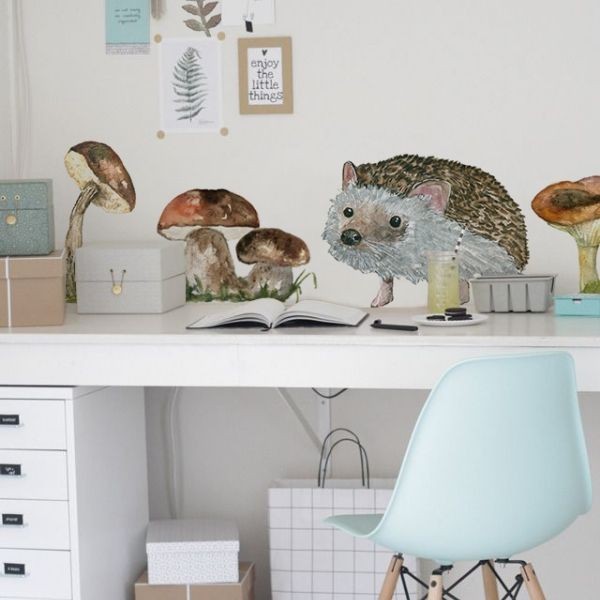 Wall decals with unique forest theme
However you do it, your compositions, views, paintings, will be unique, one of a kind, just yours. Forest animals, herbs and fruits will decorate any interior, both those decorated with natural materials, as well as those with equipment and decorations that differ significantly from the classic ones. This can be achieved thanks to the fact that decorative motifs on stickers combine modern graphics with drawings known from old tales and fairy tales. Bear's head on the wall, properly composed, will fit into any room - living room, kitchen, dining room, hall or hallway. It will also decorate the walls of country houses and arbours. Among the forest stickers we will also find a wealth of forest animals - butterflies, ladybugs, owls, hedgehogs, foxes, roe deer, badgers, hares and even bears. Placed among the forest herbs, leaves, mushrooms and fruits, they will enrich and cheer up not only the children's room but also make adults feel good in such a room. Most of us associate the forest with childhood, mystery, fairy tale read or told in winter evenings by parents or grandparents. That is why the decorations made of stickers depicting dwarfs and their toadstool house will surely please the eye not only of our kids. Or maybe the wealth of forest stickers will inspire us and our children to create on the wall a new story, an interesting story, a new fairy tale. It will surely encourage us to redecorate the old interior, without the need for renovation and the mess associated with it. The gloomy interior will gain glow, the sad ones will cheer up and the dark ones will gain mystery. Anyway, each of them will gain in modernity. We will gain a good time and the opportunity to show our imagination and creativity.