Canvas prints with cats
Cats walk their own paths and they are animals that are difficult to know fully. They have their own secrets and issues that are difficult for us humans to get to. Although it is the dog that is considered man's best friend, cats are also gaining a lot of sympathizers who can't imagine everyday life without this adorable furry. Our cat pictures show how many faces these animals have.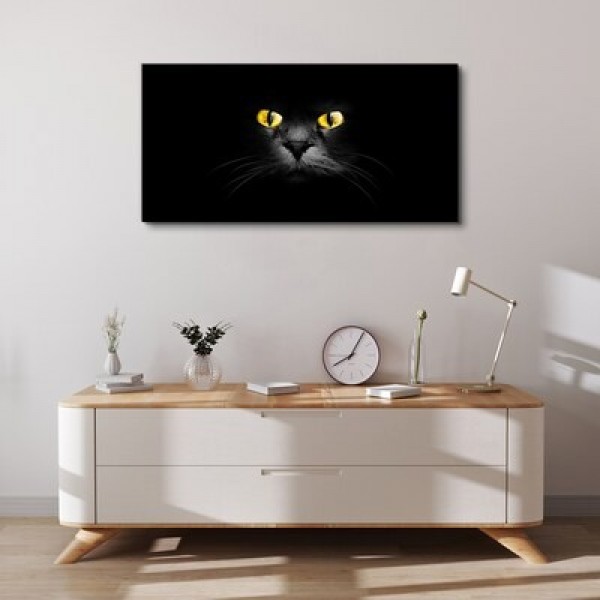 Images - domestic and wild cats
Speaking of cats, let's not forget that there are both domestic and wild ones. When they are residents of the house, we can be sure that some part of them will remain incomprehensible to us anyway. This is because they are mysterious and never fully let themselves be known. Just like wild cats, which are even less accessible, but have always fascinated people because of their cleverness and ability to cope with difficult conditions. A cat painting is a decoration for everybody's home, not only the owner of this fluffy quadruped. Not everyone can afford to have a cat at home. However, many people are fascinated by these animals and would love to see them on the wall of their home. Minimalist graphics with cats look fantastic in both modern and classic interiors.
Cats with different faces
Although cats are predatory animals, it's clear in our graphics that they often show their cute, sweet side. Whether they're sleeping curled up in a ball, or sitting with their tail wrapped around them. Check and see which option appeals to you most and better harmonizes with the interior of your home. Paintings printed on canvas will perfectly fit into any character of the interior. Ordering paintings with cats on canvas in Coloraydecor.com you will receive cat paintings in high quality with perfectly reproduced colors and details.
Also, check the glass prints with cats.