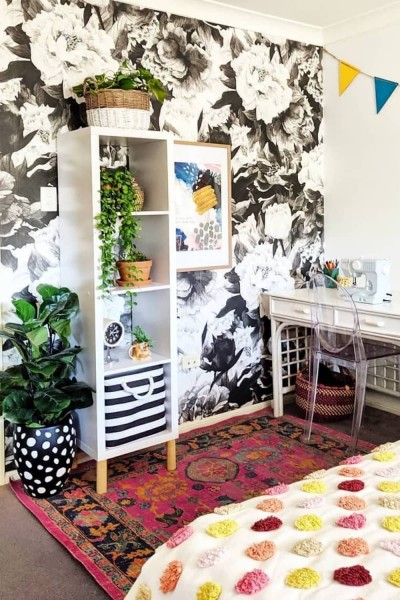 Jul, 8 2021 | Decor tips
Teen Bedroom Design - arrangements, inspirations and ideas
Designing a teenager's room is a real challenge for parents. On the one hand, they want the interior to emphasize the child's personal style and interests, on the other hand, the arrangement must match the appearance of the whole house. We will advise you on how to arrange a teenager's room so that it becomes an interesting, modern space that will be a place to relax and also a zone that inspires creativity.
How to make a teenager's room look good?
Use the tips! The Internet is full of valuable articles and ideas on how to arrange a youth room. From fashionable, stylish concepts to those crazier, filled with color. Regardless of what we are looking for, we will surely find something that will be an impulse for further action.
The important thing when designing a teenager's room is realizing that the whole concept has to be comprehensive enough for the room decor to grow with your kid.
When decorating a child's room, invest in traditional multi-functional furniture, then go crazy with graphics and accessories. Why? Because they are much easier to replace in case a teenager changes his mind about decorating his space.
Fashionable teen girl bedroom
Creating a fashionable, creative and functional space for a teenager can turn out to be a big challenge. We must take into account the fact that it will be a place where our child will spend most of their free time - learning or gossiping with friends.
When renovating a room for a girl, you should ask her what she really wants and needs. It is worth involving her in this process - maybe she has a hobby, maybe she saw something in the store that caught her attention, which would be worth considering in the design of the new interior.
The style and colors of teen girl room
Glamor, Scandinavian or boho - regardless of what style will dominate the design, it is very important to include elements that will reflect the interests and tastes of the teenager.
It is worth starting the arrangement of the space with choosing the colors of the walls. The combinations of powder pink with orange, mint or blue are very fashionable. Interesting are also floral wall murals or tropical wallpapers, with bold and expressive patterns that bring a bit of extraordinary look and magic to the space.
Furniture and accessories for girls' room
Teenagers often have quite a large collection of clothes and jewelry. Therefore, a girl's room should be equipped with appropriate wardrobes and chests of drawers, so that everything can be organized well. If space allows, you can also add a dressing table with an original mirror and led lighting. A desk will also be very important, on which all school accessories, binders and books will fit.
A girly, youth room is always full of original designer accessories, DIY elements and photos with friends in creative frames. The ideal accessories will be cotton balls, scented candles or small and large wicker baskets for feminine trinkets.
In a teenager's room, you cannot forget about textiles. Pillows, curtains, a bedspread and a warm blanket will make the interior atmospheric and cozy.
The original teen boy room
Teenagers are usually not interested in sophisticated and stylish interiors. They will focus on the functional side of their space rather than on fashionable details. Whether it's a creative study corner, a place to relax or play your favorite games, we've got you covered with some great bedroom ideas for teenage boys.
What is a good color for a teenage boy's room?
Wallpaper with geometric patterns, strong blue or green accents on the walls will be perfect for a young person's interior. Such colors combined with refined decorative elements will create an ideal space for learning and playing.
If your teenager prefers neutral color palettes on the walls, you can easily add more dimension to the interior using a carpet or bedding with an interesting pattern, or buy furniture with unique details, e.g. metallic accents.
Furniture and accessories for a teen boy room
Help your teenager keep order thanks to furniture with an extensive storage function for clothes and accessories. This will help him keep the room clean and maintain style. If buying new equipment is not an option, it is worth offering the child to repaint the furniture or stick it with special furniture stickers, and to buy a few baskets with labels.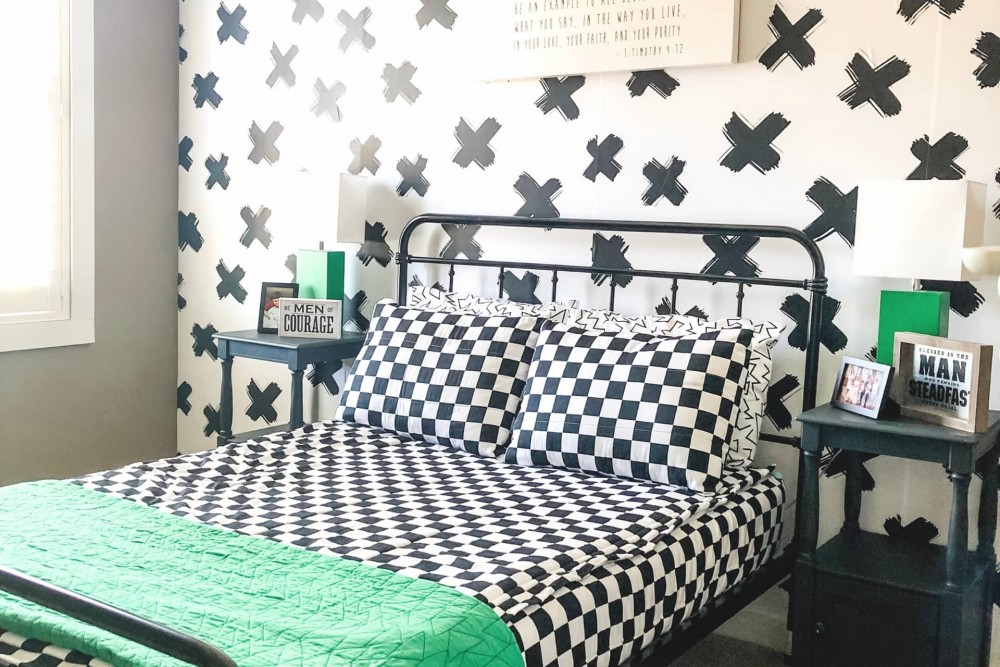 A large desk is the basis in a teen room! The wide surface of the table top will allow you to organize books and school supplies, and there will be some space for a computer and gaming equipment.
Interesting additions to the boy's room are, for example, a cork board for pinning photos and other small items, street art or pop-art paintings on canvas, and vintage-style paintings with cars.
How to create the perfect room for siblings?
Siblings do not always share the same interests and tastes. So sharing a room by two teenagers can quickly become a battlefield. Problems can be easily avoided by starting with a bedroom renovation, of course involving young people in it.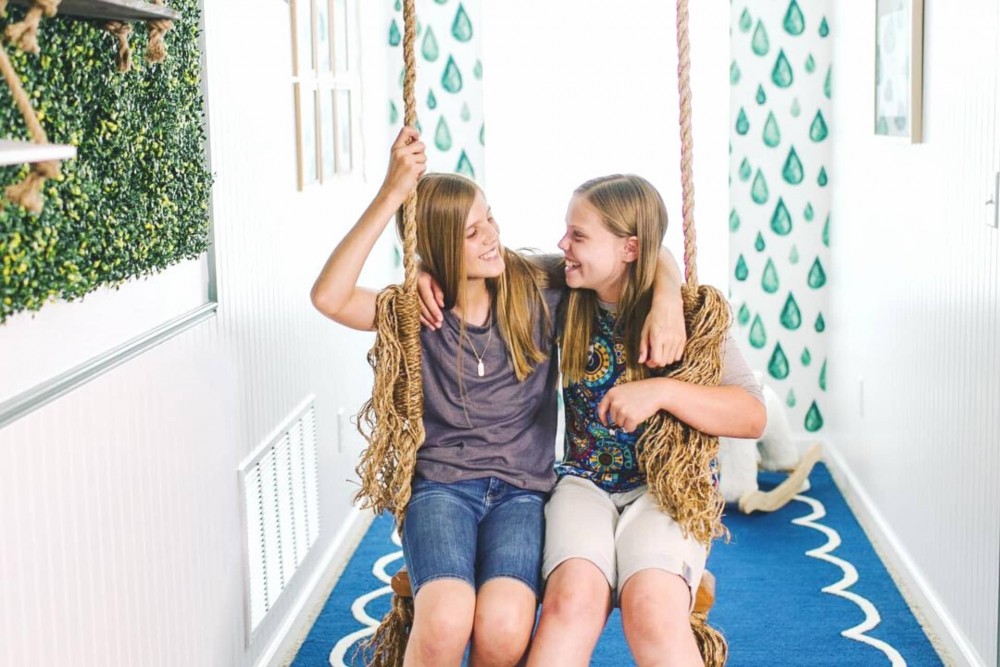 The most important thing when designing a teen's room for a sibling will be to find elements that both will like. These can be the colors of the walls, the type of furniture or unusual accessories. Maybe they have the same hobbies? Each common decoration will become the basis for creating a room that will suit everyone individually.
Tips to sibling bedroom sharing success
We can divide the youth room into appropriate zones - a sleeping area, a study area and a separate play area. You can also try to divide the room so that each of the siblings has their own creative space (e.g. separated by a bookcase, curtain or screen).
The older the children are, the more specific ideas they have for the theme of their room. So you need to find a way to combine these topics in an interesting way. The use of wallpapers will be perfect here! It is enough to choose patterns above each bed that match, for example, in color.
If your home has a narrow teens room or just a small space, it is worth looking at fantastic furniture on the Internet that can provide children with their own territory. Bunk beds with large shelves for storing things will be a good solution.
You have to take into account that teenagers both will definitely want to invite friends over. Poufs, pillows and a soft rug will be perfect to create enough space on the floor for everyone.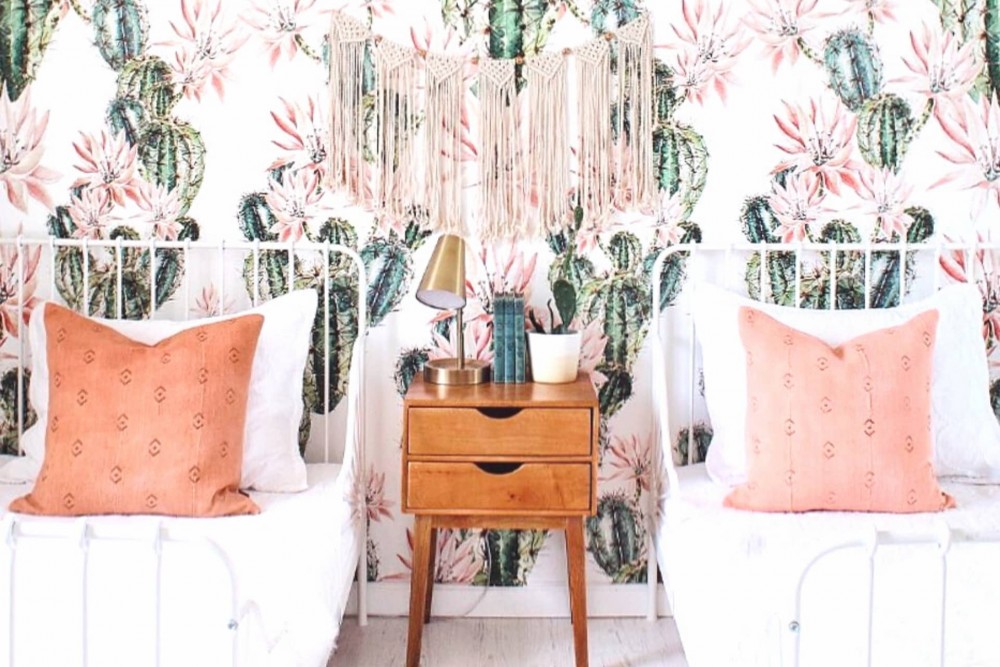 Freedom and creativity when designing a room for a teenager
When designing a teen's room, pay attention to extraordinary things! Teenagers love independence and freedom, which contributes to their enormous creativity. Most of them will want to feel like an adult in their new space. Children's wall stickers, boxes for toys and teddy bears will be forgotten. And although in the eyes of their parents they will still be children, taking them into account in the process of arranging a bedroom will be the first step into adulthood.
---
Related articles:
HOW TO ARRANGE A SMALL BEDROOM - BE INSPIRED TO CHANGE
VINTAGE BEDROOM - HOW TO DESIGN IT IN A FASHIONABLE AND COMFORTABLE STYLE?