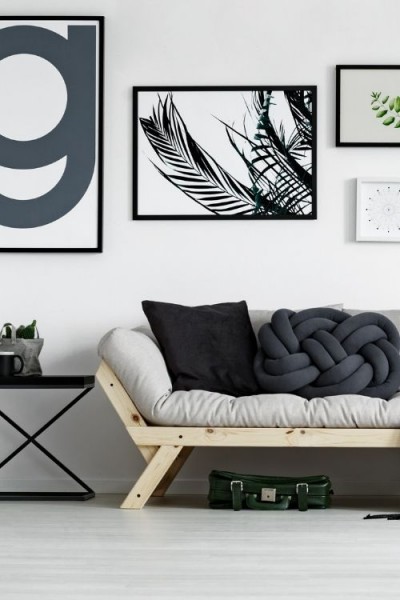 Sep, 9 2021 | Interiors
Black and white living room - tips, arrangements, inspirations
Black and white are the perfect combination of high contrast, which will look great in any arrangement. It is perfect for interiors belonging to supporters of neutral combinations who prefer to avoid bold colors and accessories. If you are planning to renovate your space, here are some ideas for design a black and white living room.
An elegant living room in a monochrome version
Black and white doesn't mean boring. A well-designed living room in this aesthetic will look stylish and universal. There are many ways to use this color scheme in an interesting way. However, keep in mind that simplicity is the most important thing. There is nothing worse than a room that is overdone and unpleasant. There are many possibilities for a decor designed in a style ranging from traditional to glamour. Today we present three ideas for a black and white living room, each with a different aesthetic and intensity of color combinations.
A black and white living room in a Scandinavian style
Two current trends, Scandinavian motifs and black and white decor can be a pretty good pair. Nordic love for simplicity, natural elements and functionality combined with timeless colors is a recipe for living room success.
It has long been known that the use of white will fill the space with light, so it is important that this cold color takes the lead in a Scandinavian-style living room. Is it on the walls or furniture, the most important thing is that there should be more of it.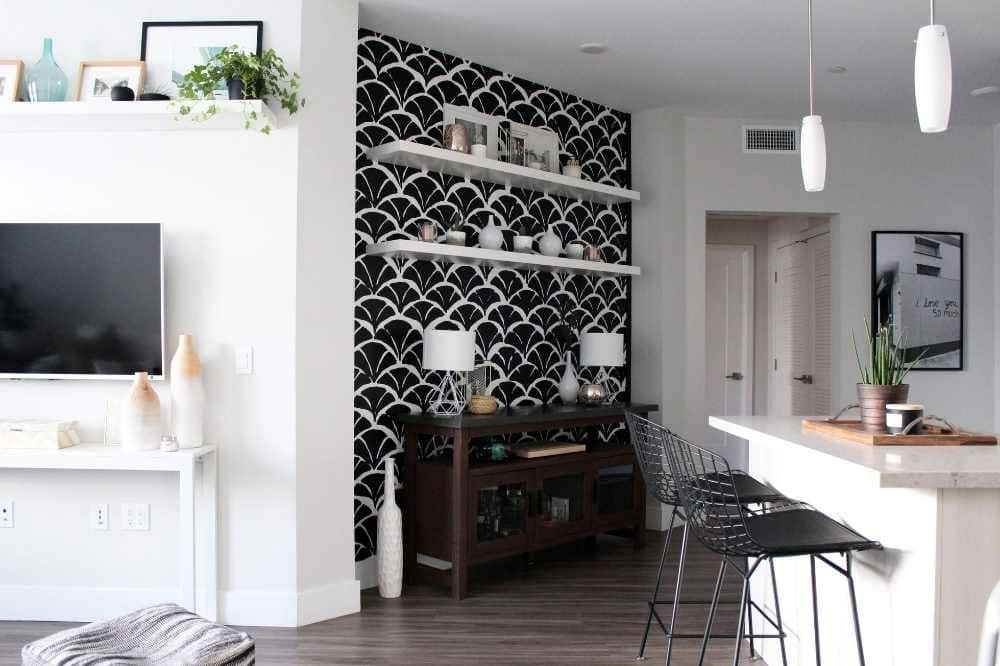 What about the extras? A black and white wallpaper or a painting in black and white colors will be perfect for the living room. The black, contrasting color will look great on: metal lamps, patterned textiles, mural with a geometric motif or paintings on canvas.
Black and white living room in a glamour style
The elegant, effective and unique character of the glamour style fits perfectly in a monochrome combination. This color combination creates a wonderful backdrop for rich accessories and sophisticated materials.
If you want to transform your living room into a luxurious space, choose a dark color. A black sofa and a black table with marble elements with white walls and a wooden floor will create a perfect interior full of splendor and sumptuousness.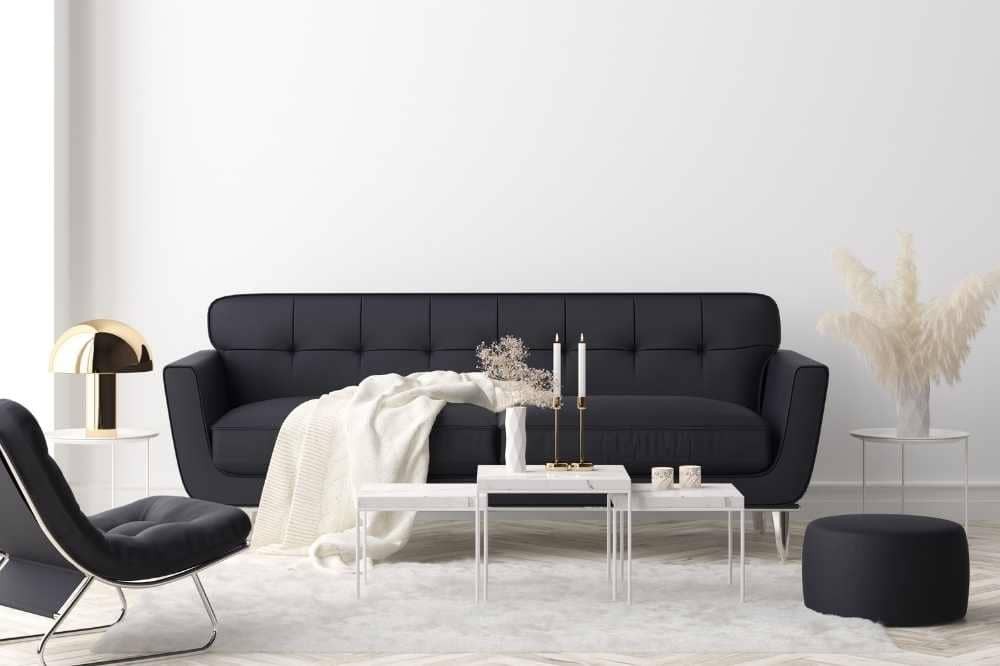 Combine bold patterns and shapes. Add golden and crystal accents, a variety of rich materials - velvet, silk or leather. White walls should be accentuated with accessories such as: a large mirror, lamps or glass paintings with an abstract motif.
Black and white living room in an industrial style
The industrial style is a cool, austere decor and wide, open spaces. There are plenty of possibilities to make ideas for an industrial transformation of your living room a reality! This style is very versatile and should be combined with the concepts of various other styles. The living room will then seem more comfortable and cozy.
Minimalist decorative elements will be the perfect complement to the contrasting black and white in the living room. This industrial aesthetic uses materials such as metal lamps, exposed wiring, pipes, wood, concrete, leather, and utility items.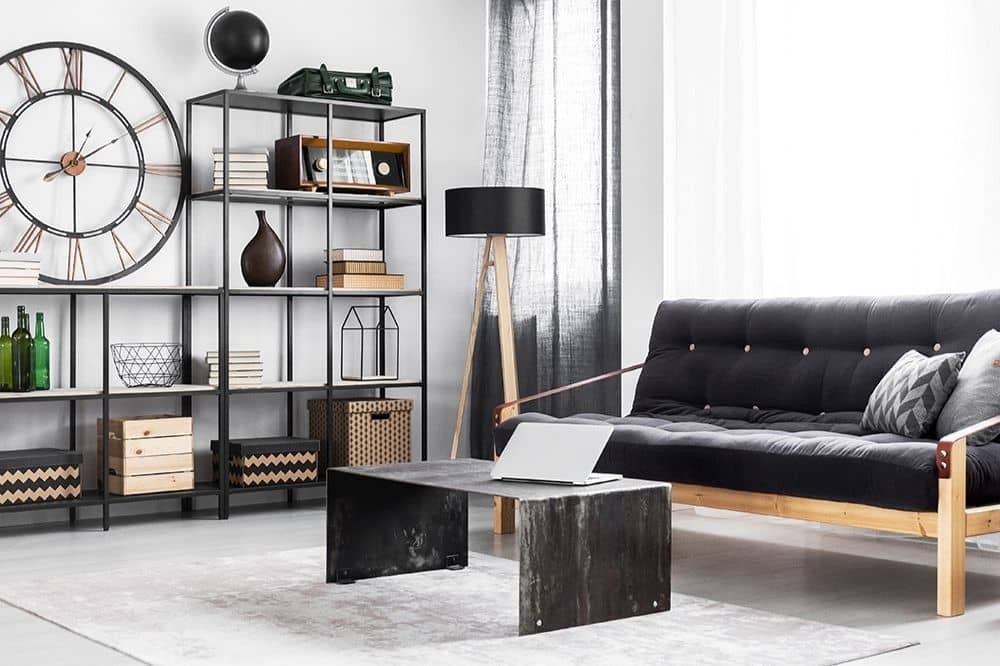 They will look beautiful in a black and white living room: a dark marble wall crowned with expressive paintings, a gray sofa with white pillows and blankets, and a wooden floor that will subtly emphasize these monochrome colors.
The black and white decor, thanks to appropriate additional accents, will make your space shine for sure. However, make sure you add your own style to it. If you are looking for other inspirations to decorate your home or apartment, please visit our articles section, where you will learn, among others, how to choose the colors of the walls, how to decorate a small bedroom and how to arrange a teenager's room.
---
Check out our other decor guides:
HOW TO HANG A GALLERY WALL? IDEAS AND INSPIRATIONS
WHICH WALLPAPER TO CHOOSE FOR YOUR BEDROOM?
VINTAGE BEDROOM - HOW TO DESIGN IT IN A FASHIONABLE AND COMFORTABLE STYLE?