Tropical wallpapers
Tropical style is one of the hottest trends of the decade. Around the world, homeowners are outdoing themselves in interior design, where their main leitmotif is bold, jungle-inspired decorations. This happen because elements such as our self-adhesive tropical wallpapers bring a wonderful, sunny atmosphere to the room. Thanks to them, you can create a personal tropical oasis in the comfort of your own home.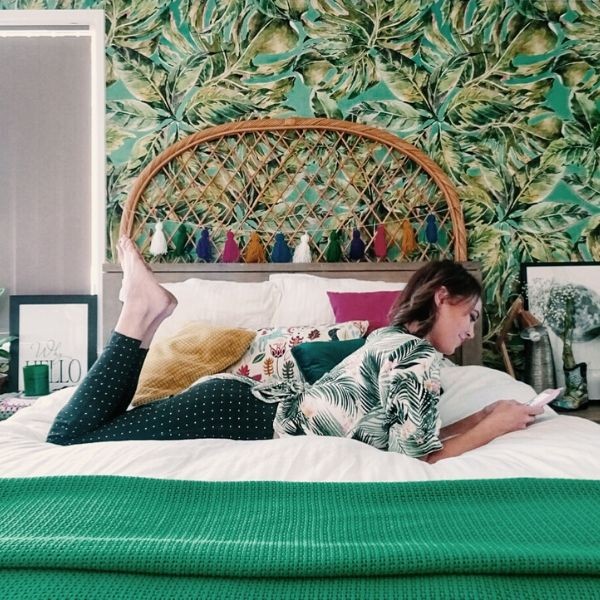 Country
Art deco
Minimalist
Classic
Baroque
French
Abstract
Glamour
Shabby Chic
Victorian
see all
Eclectic
English
Rustic
Scandinavian
Provencal
Modern
Boho
Contemporary
Japanese
Colonial
Vintage
Ethnic
Oriental
Retro
Tropical leaves on wall murals
If you are looking for a quick and easy-to-install way to refresh the interior, then the perfect solution can be the high-quality removable tropical wallpaper. Thanks to it, you will fill your home with a wonderful paradise climate, and at the same time your room will gain a new, stylish scene. Try the tropical banana leaf or monstera pattern to bring home fresh green colors or hot beach wallpaper with pink flamingos proudly appearing on it. Or maybe you want to feel at home as in an exotic, multi-colored jungle? Then pay attention to the floral wall murals in various shades, where wonderful strelitzias, delicate amaryllis or stately anthurium look great. Also intriguing are self-adhesive tropical wallpapers, where paradise birds are shimmering with the entire rainbow color palette. Or maybe you are looking for the perfect addition to the kitchen?
Bring the tropical forest inside
Then think about peel and stick wallpapers with juicy exotic fruit like: elegant pineapples, tasty mangoes and nutritious avocados. Tropical style wallpaper will give any room a wonderful color and summer atmosphere, its versatile theme will help create a fresh, modern arrangement. Popular and extremely vivid motifs of our removable tropical wallpapers will fantastically suit in both private places and a modern office. You can do this kind of metamorphosis at any time, without unnecessary costs and lost time. The highest print quality and attention to detail will allow us to match our wallpapers to any arrangement. Thanks to their unique design, you don't have to worry about getting them dirty or damaged. Well-designed, self-adhesive tropical wall murals will be an interesting addition to your interior and will surround it with a special, unique atmosphere.