Vintage canvas prints
We have an idea for stylish paintings for your living room! It's vintage that never goes out of style. The inspiration from the past has always been one of the ways to decorate your home or commercial establishments. A retro painting can add chic, elegance, and emphasize the unique character of the interior.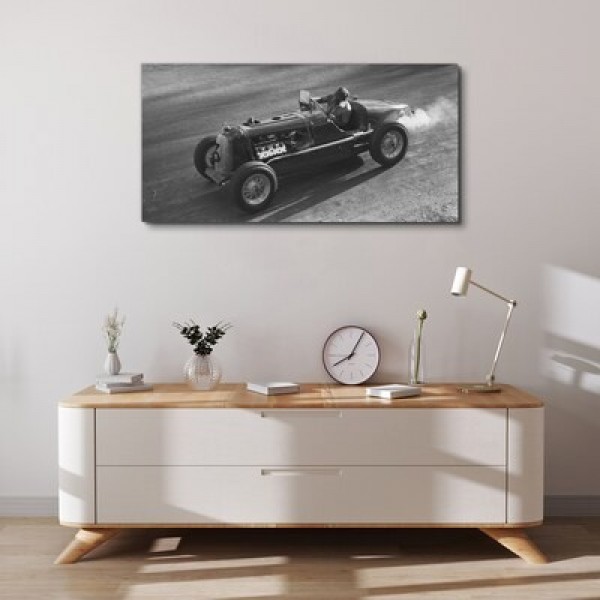 Home retro style
Many people choose to furnish their home in a retro style. They reach for stylized furniture or antiques which have an interesting history. Vintage paintings would fit right into such an arrangement emphasizing it with a touch of modernity. Paintings printed on canvas have a minimalist form (canvas stretched on a frame, with printed sides), and at the same time relate to the other traditional elements and decorations which are in the interior. Another option is a retro photo image. It can be an old car in the right scenery, people in vintage clothes, or everyday scenes. They allow you to move to the times when the world looked completely different and was governed by different laws. It can evoke a longing for times that unfortunately will not return. It is also a great source of inspiration - in outfits, behavior, and arrangements in the home space.
Decorative pictures in vintage style
Does vintage style only fit into the living room? We are convinced that it doesn't. Paintings for the retro kitchen can also have a vintage theme as their main theme. Reach for matching colors and make the place where you prepare and eat meals look unique. You can choose only a small picture which will subtly emphasize the character of the interior. Another option is a maxi print which will be the main decoration in the interior. Canvas material is particularly practical in this case due to the fact that it works well wherever there is moisture and susceptibility to dirt. When the cleaning time comes, all you have to do is wipe it down with a damp cloth. You can be sure that the colors that are on the canvas will not fade. If you do not know what design to choose, reach for graphics in colors that harmonize with the colors used in kitchen and dining room arrangements.
Also, check vintage glass prints.